Coworking Spaces Adding Recording Studios to the Mix
Originally published November 17, 2016 at 2:34 p.m., updated November 17, 2016 at 2:34 p.m.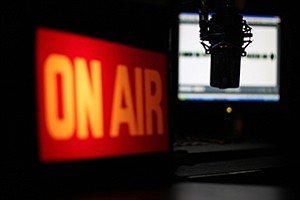 San Diego — An increasingly hot market for shared office space has encouraged coworking facilities to get creative with tenant perks. The latest bait? A place to record your podcast.
Downtown Works, a $9 million coworking facility in downtown San Diego, is jumping on the podcast trend by opening a recording studio for its members to use.
Startup community leaders are increasingly embracing podcasts as a medium for entrepreneurs to engage with consumers, clients, and their communities.
Over the past few weeks, we've written about San Diego startup leaders Neal Bloom, Allison Long Pettine and Millard Chan launching their own local podcasts on topics including venture capital investing, entrepreneurship, and social ventures.
Downtown Works community manager Valisa Valdois said there's been demand from members for a quiet space to record.
"Members try to (record podcasts) in the open space and phone booths, but it just isn't ideal," Valdois said in an email.
The podcast studio is being built on the mezzanine, Valdois said, and is nearly complete. The studio will include two microphones and a sound board compatible for both Mac and Windows operating systems.
While the space is currently for members, Valdois said Downtown Works might one day start a podcast of its own.
Other coworking spaces in San Diego already sport a podcast recording studio, including CyberHive near Little Italy and Co-mmunity in Hillcrest, a "creative" coworking space geared toward writers, designers, artists, and other professionals in
San Diego.