REAL ESTATE: RETAIL AND APARTMENT VACANCIES REMAIN VERY LOW
Net Space Absorption Continues on Powerful Pace for 2016
Originally published November 10, 2016 at 2:52 p.m., updated November 10, 2016 at 2:52 p.m.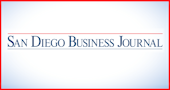 San Diego — Sustained job growth and a generally strong national and local economy continued to fuel demand for office and industrial space in San Diego County during 2016's third quarter, as apartments saw another quarter of rising rents and dwindling vacancies amid construction rates that still lag far behind demand.
If office demand maintains its current pace into the fourth quarter, noted Colliers International Group Inc., 2016 is shaping up as one of the strongest years for net space absorption in more than a decade.
CoStar Group reported the San Diego County office vacancy at 10.7 percent at the end of the third quarter, with the industrial vacancy at 5.2 percent, the retail vacancy at 4.1 percent, and the apartment vacancy at 3.6 percent. The retail and apartment vacancies remain among the lowest for major U.S. metro areas.
Here are some key commercial real estate trends of the quarter, reported recently by brokerage and research firms serving the region.
Downtown San Diego
CBRE Group Inc. noted that downtown remained among San Diego's most active office submarkets, spurred in part by the growing presence of coworking space operators such as WeWork and Level Office.
The largest new office lease transaction of the quarter was WeWork's taking of 88,000 square feet across six floors at 600 B. St. Colliers International estimated that downtown would have between 140,000 and 150,000 square feet of co-work space in place by year's end.
CBRE said downtown led the county for positive net office space absorption, with 112,596 square feet newly occupied. With numerous apartment projects currently underway, Marcus & Millichap said about 1,900 new downtown units are expected to be delivered in 2017, after 226 units were placed into service during the third quarter and more than 200 were delivered in the first half of 2016.
The office vacancy rate hit 9.8 percent in Kearny Mesa, the lowest seen in that submarket since the first quarter of 2008, as the neighborhood also led Central San Diego for office space absorption, according to CBRE.
Colliers International noted that all three of San Diego's general office buildings under construction at the end of the third quarter were all in UTC (one 96,000-square-foot building) and Carmel Valley (two buildings totaling 92,000 square feet). The only others under construction in the region were single buildings in La Mesa and San Marcos, with the latter already preleased; no new general-office construction countywide was completed during the quarter, and no projects are expected to be completed by year's end.
Cushman & Wakefield noted big tenant actions of the quarter that included the start of Teledyne Technologies Inc.'s move into 82,000 square feet at Scripps Ranch; ICW Insurance's move into 75,400 square feet at Carmel Mountain Ranch; law firm Dentons' occupying of 48,000 square feet at UTC; and the County of San Diego's move into 47,000 square feet in Kearny Mesa. Also, WD-40 purchased a 42,000-square-foot building at Scripps Ranch for its corporate offices.
North County
Colliers International said Carlsbad posted North County's largest amount of positive office space absorption — more space being occupied than vacated — at nearly 100,000 square feet.
Large tenant actions during the quarter included a 91,974-square-foot expansion by automotive products maker MagnaFlow in Oceanside; and clothing retailer Brixton's occupying 65,600 square feet of operations space in Oceanside.
Marcus & Millichap said apartment rents in Vista and San Marcos are up 9.6 percent from a year ago, the largest climb among county submarkets tracked by the firm, with the vacancy rate dropping to 2.8 percent.
South County
The county's largest retail development expected to be completed this year, according to Marcus & Millichap, is a 118,000-square-foot center in Chula Vista. Chuze Fitness has pre-leased 32,000 square feet, with another business, yet to be announced, set to lease 20,000 square feet.
Big tenant lease signings and move-ins included Balboa Water Group's taking 98,500 square feet of industrial space in Otay Mesa. Among the larger property acquisitions was Bosa Development's purchase of a National City building and adjacent land, for more than $42.7 million.