Executive Q&A Ashok Kamal, Executive Director of Tech Coast Angels
Originally published November 10, 2016 at 12:42 p.m., updated November 10, 2016 at 12:42 p.m.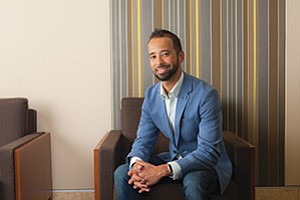 San Diego — Ashok Kamal tells me he's more comfortable in board shorts than blazers, but I have a hard time believing it.
He looks perfectly at home in the conference room of a law firm, dressed to the nines in a structured jacket, a trendy smartwatch, and a pressed Oxford shirt.
As we start discussing his new leadership role at investor group Tech Coast Angels, it's apparent that his polish goes beyond his attire. Kamal is thoughtful and articulate. All business, all the time.
If you follow Kamal on social media, though, you get a peek into his personality. He's more edgy, and less corporate in the Twittersphere. Covered in tattoos (including a fairly recent surfboard design inked into his forearm), Kamal is fun, bold, and let's just come out and say it… he's cool.
The 37-year-old recovering New Yorker has an interesting professional past that includes starting a hip-hop record label, running a youth development nonprofit, and working in socially responsible investing.
He's founded tech startups in green business, online education, and crowdfunding.
It's this blend of polish, entrepreneurial zeal, and edginess that makes Kamal a nice fit for his new position as the San Diego executive director of Tech Coast Angels (TCA), the largest network of angel investors in the country.
"Ashok represents a new generation," said Brant Cooper, a startup community leader in San Diego. "He understands current marketing techniques, technology, the lean startup (methodology). He understands Silicon Valley, as well as new investment trends like crowdfunding and angel syndicates. He's a breath of fresh air."
TCA was founded in San Diego, and now includes five regions in Southern California and 300 members (including CEOs and top executives, entrepreneurs, venture capitalists, and other professionals).
The group invests in early-stage companies (often in life science or technology), including some of the most recognizable startups in San Diego today: Portfolium and CloudBeds.
Since its founding in 1997, TCA members have invested over $180 million in more than 300 companies. They've helped attract an additional $1.6 billion in follow-on capital, mostly from venture capital firms. Last year alone, TCA invested $13.5 million in 58 companies.
But early-stage investing is an increasingly crowded game with alternative sources of fundraising on trend (think Kickstarter and Reg A+ crowdfunding), and Kamal said it's important that TCA stays agile and relevant.
"Angel investing is sometimes perceived as handshake-and-backslapping deals made in smoky rooms," Kamal said. "But we're using technology, we're collaborating with other groups in the community, and our new initiatives are helping angels stay competitive in this changing market."
Kamal sat down with San Diego Business Journal to answer questions on how he will move TCA forward. Here are some excerpts:
It's my understanding that your position with TCA was a newly created role, is that right?
Yes, it's a misconception that I replaced somebody. This is a new position that the board created when they recognized that the overall angel investing landscape had changed.
As investors, we're not only looking for disruptive companies; we have to protect against being disrupted ourselves by broader macroeconomic changes.
That disruption can come from crowdfunding, micro and nano VCs, platforms like AngelList, and startup accelerators that have proliferated across the country.
I think the board wanted to add structure to the organization. They wanted to have more focus on new initiatives, and the creation of this position was one of them.
Brant Cooper, a leader in San Diego's startup community, described you as a "breath of fresh air" for TCA. Why do you think he said that?
I appreciate Brant's endorsement, as he's a good friend (laughs). I know Brant as an investor and an entrepreneur, so he's seen me on multiple sides of the table. I think he probably is encouraged to see that TCA is making efforts to build bridges into the community in new ways.
Tech Coast Angels' changes are part of a broader change that's taking place in the marketplace. Us being progressive — whether it's creating a new angel syndicate, or collaborations within the expanding San Diego economy — those are all reflections of the growing and expanding startup community here.
You mention that you've been on both sides of the table — as an investor and an entrepreneur. Was that one of the main reasons you were considered for this position?
I met with about 10 TCA board members before I was offered the position, and it felt like they wanted somebody who understood startups at their DNA. And that's me. I come from a founder's background. I know what it's like to be told "no" over and over again by investors. I know what it's like to have a co-founder conflict, or to be so close to running out of cash that your company is constantly on the brink.
Not only do I bring an entrepreneurial mentality, but also an entrepreneurial empathy to the companies we work with.
Why is it important to have empathy in this position?
Because there's nothing harder than starting a company. You have to know what it's like to walk in their shoes. You have to know when to pull, and when to push; when to be an advisor, a coach, and a mentor. And you need to know when to just be a compassionate listener.
It's not only our mission to help these companies succeed, it's our economic incentive. Without them, there is no us.
You mentioned TCA has a lot of new initiatives. What is the organization focusing on this year?
We've created an angel syndicate network, in which we brought together 20 angel groups from around the country to live stream and view recorded presentations from four to five entrepreneurs every month. Now as an entrepreneur pitching to TCA, you're getting maximum exposure. That's important, because every angel group has constraints in terms of its bandwidth, capital capacity, and deal flow visibility. Syndication allows us to pool our efforts and resources.
We've also made collaborations with other startup institutions in San Diego, including EvoNexus, Startup San Diego, San Diego Venture Group, DeskHub, DowntownWorks, and the Downtown Collaboratory.
As San Diego continues to grow, there will be consolidation and collaboration. We want to be proactive about working with partners.
What do those collaborations look like? What do you do for each other?
We have a "Meet the Angels" roadshow, in which angels are visiting these various institutions. They share their backgrounds, talk about what they're looking for in companies, and opportunities to get funding.
We're also doing collaborative pitch events, and sharing deals with other early-stage investors.
Investors often say that they're in the business of saying no. What makes angel investors say yes to entrepreneurs looking for capital?
A founder you fall in love with is one of the main reasons you'll get a "yes." That means the founder is passionate and mission-driven. They understand their market, they're organized and sophisticated. These are all signals that this company understands the challenge of building a startup.
Does someone come to mind that impressed you in that way?
Yes, Eugene Cho, the founder of Echo Laboratories. This guy is always organized, always gracious, he knows his market inside and out, he's created a great team around him and a game-changing technology. What's not to like?
So if that's what you're looking for, what are the big turn-offs for angel investors? What makes you want to say no?
I'll tell you a mistake I remember making that's seared into my brain. I was an MBA student pitching at the Rice University Business Plan Competition. I was stopped short in the middle of the pitch by a judge investor from Houston, Texas. With his deep, Southern drawl he said to me, "Son, I think you talk too fast, and you don't listen enough."
Listening is a really important part of being an entrepreneur. As founders, we often put on this veneer of confidence and indestructibility.
But the reality is that even successful startups are constantly falling apart.
It's important to have the humility, self-awareness, and sensitivity to listen — to not always know the right answer. It's always better to be candid, honest, and even vulnerable than to misrepresent and be arrogant. Because the reality is, nobody knows if your startup will succeed.