Council Connections Renames Itself CNECT
Monday, November 7, 2016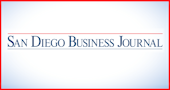 San Diego-based Council Connections, a national group purchasing organization founded in 1979, has rebranded as CNECT.
Group purchasing organizations leverage the bargaining power of a group of businesses to get better deals from vendors.
The new name, pronounced "connect," was part of a package of changes, including a modernized company logo and website, the company said in a statement Monday.
CNECT has 6,600 members in the health care, social service, education and hospitality industries, according to its website.
Members get "access to our robust contract portfolio, (the) ability to leverage economies of scale and (an) extensive array of supplier partners," said Sparkle Barnes, execute vice president of CNECT, in the statement.
The company believes "organizations can better focus on their customers if they are connected to a group purchasing organization that offloads the heavy lifting, helping them improve operational efficiencies, while reducing costs through contracts, collaboration and supply chain strategies," said Henry Tuttle, CNECT's president and board chairman.