DEFENSE: ANNUAL REPORT SHOWS SECTOR HAS GREATER IMPACT THAN TOURISM
SDMAC: Military Grows to 20 Percent of Local Economy
Originally published November 3, 2016 at 2:58 p.m., updated November 3, 2016 at 2:58 p.m.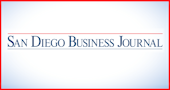 San Diego — San Diego no longer looks like the military town it was at mid-century, when Horton Plaza was full of sailors, when the Consolidated plant on Pacific Highway turned out military aircraft and when giant radio antennas dominated neighborhoods.
Then as now, however, the U.S. military stokes its economic engines.
And the military still leaves a distinguishing mark. Witness the rolling open spaces near the Orange County line, where U.S. Marines practice amphibious landings.
Marine Corps Station Camp Pendleton is home to 36,000 Marines and takes up 125,000 acres which, under normal circumstances, would have been turned over to Southern California housing tracts long ago.
Though it's often out of view for the typical civilian, the county's collection of military assets is arguably the world's largest. And it's worth tens of billions of dollars to the regional economy.
In fact, the San Diego Military Advisory Council argues in its recently released annual report that the Defense Department is the region's most important economic driver, responsible for 20 percent of the region's economy.
SDMAC is a group with close ties to the U.S. Navy, San Diego's defense contractors and its business establishment.
Direct Pentagon spending was estimated at $23.3 billion in fiscal 2016, and the Pentagon was responsible for 134,000 direct jobs, SDMAC said in a study released Nov. 1.
The dollar amount is larger than tourism, which had an $18.3 billion economic impact in 2015 but had more jobs — 158,200 — than the military. Health care had 140,000 jobs, according to figures from the San Diego Regional Economic Development Corp.
The SDMAC study also counts more than payroll spending. Some $4.6 billion in retirement and veterans benefits flowing to San Diegans are part of its tally.
Muddying the waters a bit more is the fact that sectors tend to overlap. Defense contracting blurs with technology and aerospace in some environments, such as the shop floor of General Atomics Aeronautical Systems Inc., where Predator aircraft are built and electronics are assembled. (The EDC's tally of information and communications technology jobs is almost 70,000, and the EDC's focus is not limited to military jobs.)
The Defense Department's $23.3 billion in spending in San Diego grew from $22.7 billion in 2015.
This year's figure is expected to grow 2.5 percent to $23.9 billion in 2017, the newly released study says.
The $23.3 billion sum is more than the gross national products of certain counties, including Estonia ($22.7 billion), Zambia ($21.2 billion) and Nepal ($20.9 billion), according to World Bank figures from 2015.
Whole corporations have budgets just as large. Northrop Grumman Corp.,
Raytheon Co. and Halliburton Co. recently turned in revenues in the $23 billion range.
Destination: Pacific
San Diego is getting more ships as the Navy moves more of its assets from the Atlantic to the Pacific Ocean. The region was home to 49 ships in 2015 and 53 ships in 2016. The number is expected to grow to 57 ships by 2017.
On average, a single surface ship brings in 351 sailors and officers, and $31.2 million in payroll, the study says. The two aircraft carriers stationed at North Island pack a punch, each bringing 3,200 people to the community and spending of $214.5 million.
Pentagon spending in San Diego is poised to grow in 2017, study authors said, thanks to the military's decision to send more of its assets to the Pacific and a reversal of federal budget cuts — though the budget situation may be temporary, study authors said.
Benefiting the most from the defense budget are the large local defense contractors.
General Atomics, whose varied businesses produce aircraft as well as aircraft launch and recovery gear, was the top recipient of defense contracts in 2015, with deals that totaled $2.31 billion. The number is not the same as annual revenue, and the contract money will likely be spent over multiple years. Privately held General Atomics does not disclose its revenue.
Northrop Grumman (NYSE: NOC), which runs aircraft programs and builds electronics in San Diego, took second place with $1.05 billion. The NASSCO
unit of General Dynamics (NYSE: GD), which builds and repairs ships, was third with $859 million worth of contracts.
The ninth-largest contract recipient for 2015 was French food-service provider Sodhexo, which received $132.4 million in business. Sodhexo has the deal to operate mess halls on the region's bases.
The SDMAC study forecasts San Diego County's defense contractors will see procurement increase from $8.6 billion in 2016 to $8.72 billion in 2017.
Though the difference between 2016 and 2017 is about 1.5 percent, the financial jump is large — more than $100 million, a dollar figure typical of Pentagon spending. Even the crumbs of that sum can be significant to a business.
Ripple Effects
By employing a multiplier model, calculating how dollars turn over in the community, economists hired by the council figured that direct Defense Department spending of $23.3 billion translates into $44.7 billion in gross regional product. Using this logic, the council argues that a full 20 percent of jobs in San Diego County are supported — directly or indirectly — by the military.
Study authors from Point Loma Nazarene University use the IMPLAN model, described as "a well-known economic programming model widely used in economic impact studies."
The SDMAC study also includes an appeal to work together.
Local political, civic and business leaders need to appreciate what the military brings to San Diego, study authors said, adding that civic and military leaders should realize their relationship is not a one-way street.
Several factors could make this relationship more difficult, study authors also said, including a further increase in housing prices.
Growth could be hampered by a number of factors, in or out of San Diego's control. Security threats from Russia, for example, might slow the transfer of military assets from the Atlantic to the Pacific, study authors said.