TECHNOLOGY: NXP BUY OPENS NEW DOORS FOR CHIPMAKER
Qualcomm Acquisition Broadens IoT Focus
Originally published November 3, 2016 at 2:33 p.m., updated November 3, 2016 at 2:33 p.m.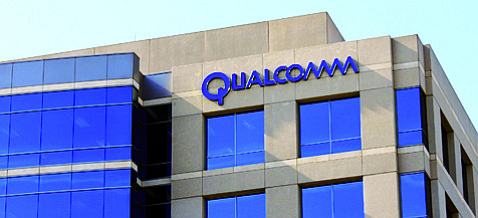 Qualcomm Tops Expectations With Latest Earnings Report
Wireless technology specialist Qualcomm Inc. reported net income of $1.6 billion on revenue of $6.2 billion in its fourth quarter, which ended Sept. 25.
The good showing reflected new license agreements in China as well as strong shipments of microchips, CEO Steve Mollenkopf said in a statement Nov. 2.
The company beat analyst expectations by turning in non-GAAP earnings of $1.28 per share — above the high end of its financial forecast. The 22 analysts surveyed by Thomson Reuters collectively predicted that Qualcomm would report non-GAAP earnings of $1.13 per share. The number does not reflect one-time charges, therefore does not meet the more stringent GAAP (generally accepted accounting principles) number sought by securities regulators.
Revenue for the 2016 fiscal year was $23.6 billion, down almost 7 percent from fiscal 2015. Net income for the year was $5.7 billion, up 8 percent from the previous year.
The business reported holding cash and marketable securities of $32.4 billion when its fiscal year concluded. Qualcomm said it plans to fund its acquisition of Dutch semiconductor company NXP using some of its cash reserve. Qualcomm in late October announced plans to acquire the company for a total $47 billion, including the acquisition of debt.
"We are forecasting continued growth of global 3G/4G device shipments in calendar year 2017, led by growing demand in emerging regions," Mollenkopf said in a statement. Qualcomm receives a licensing fee from each mobile device that contains its patented technology.
"We are well positioned to extend our mobile technology leadership and footprint into attractive growth opportunities, accelerated by our recently announced agreement to acquire NXP," the CEO said.
Revenue in the current quarter (the first of fiscal 2017) will likely end up in the range of $5.7 billion to $6.5 billion, Qualcomm said. In all but the lowest scenario it would beat first-quarter revenue from 2016.
San Diego — A big acquisition — one worth $47 billion — has the potential to give Qualcomm Inc. a broader focus and much more heft.
Qualcomm (Nasdaq: QCOM) seemed to be resisting the semiconductor industry's urge to pursue big acquisitions but finally revealed that it's in the chase, too.
The San Diego chipmaker announced in late October that it plans to buy all the stock of NXP Semiconductors N.V. of the Netherlands for $110 a share.
A combined company would have revenue of more than $30 billion. Qualcomm announced on Nov. 2 that it had 2016 revenue of $23.6 billion, down 7 percent from $25.3 billion in 2015.
"The two make a good combination," said Patrick Moorhead, principal analyst at Moor Insights & Strategy, given the disparate markets that the companies serve.
Qualcomm has been seeing the market for its smartphone chips decline, and has felt the need to get into other areas.
Boost to Auto Sector
After early success in satellite communications for big-rig trucks in the late 1980s, Qualcomm aggressively promoted Code Division Multiple Access technology for cell phone communications. It became a go-to supplier for second-, third- and the current fourth generation of wireless communication tools. Today much of the company's profit comes from licensing its 119,000 wireless technology patents to other companies.
Qualcomm is also laying the groundwork for a fifth generation (or 5G) of wireless technology while exploring growth opportunities in adjacent markets, such as data center computing, wireless medical equipment and robotics. It sees a particularly large opportunity in what the tech community calls Internet of Things.
Qualcomm has also introduced microchips for autos. The addition of NXP (Nasdaq: NXPI) seems certain to give the San Diego company a boost in that market.
Expanding IoT Options
In 2016, 15 businesses produced "infotainment" (that is, information plus entertainment) systems for autos. NXP was in 14 of those offerings. The NXP acquisition — if successful — gives Qualcomm a wealth of sales channels.
Mark Hibben sees an NXP acquisition helping Qualcomm fight off Intel Corp. (Nasdaq: INTC) in a scramble to supply chips for the Internet of Things. Hibben is an investor with an engineering and software background who writes for the Seeking Alpha website.
The Internet of Things, or IoT, describes a world where common machines connect to the internet and transfer data among each other. Qualcomm told investors early this year that it sees a $15 billion addressable market in IoT by 2020.
Hibben said he was initially skeptical about the Qualcomm-NXP deal, but changed his mind. "Winning the IoT battle with Intel is probably enough to justify the expense of the NXP purchase, even if Qualcomm may have overpaid," he wrote.
Nomura Securities analyst Romit Shah raised his rating on Qualcomm stock to buy following the news, saying NXP will increase Qualcomm's earnings by at least 30 percent to $6 per share in 2018.
In addition to its automotive chips, NXP emphasizes low-power analog, near field communication, Bluetooth and low-end systems on chips for the Internet of Things, Moorhead said. The analyst listed Qualcomm's strengths as smartphone and tablet systems on chips, modems and Wi-Fi semiconductors.
Activist Pushed M&A
Eighteen months ago, investor Jana Partners sent Qualcomm's leadership a long letter with the theme of unlocking value. It urged Qualcomm to consider strategic mergers and acquisitions. "Semiconductor companies are being rewarded for M&A," the investment fund said, "with several recent large deals having meaningfully outperformed the market, and with those deals focused on industry consolidation/cost synergy delivering even greater returns."
Qualcomm did buy CSR PLC (aka Cambridge Silicon Radio), wrapping up the acquisition in August 2015, though its $2.4 billion price tag is puny compared to its newly announced deal.
Qualcomm and NXP made their announcement on Oct. 27. By spending $110 per share in cash, Qualcomm has committed to paying about $37.9 billion. With the assumption of debt, the price rises to $47 billion.
The deal is expected to close by the end of 2017, pending regulatory approval and Qualcomm's success in its tender offer.
Qualcomm said it plans to fund the transaction with cash on hand — the business has a lot of cash — as well as $11 billion in new debt.
"The transaction is structured to enable tax-efficient use of offshore cash flow to rapidly reduce leverage," Qualcomm said in a statement.
"Qualcomm is committed to maintaining its strong investment-grade credit ratings."
Doubling its Workforce
Qualcomm had 33,000 employees as of September 2015 and — at the time — set a target of about 28,100 employees by late 2016.
The business had announced a 15 percent reduction in head count. Revenue was $25.3 billion in fiscal 2015.
NXP has 44,000 employees in more than 35 countries and reported revenue of $6.1 billion in 2015.
NXP, by the way, was already part of the merger fray, buying Freescale Semiconductor Ltd. of Austin, Texas, in December 2015.
Merging Qualcomm's and NXP's operations "will take some time after the close, but the good news is there's little overlap which should make it easier than other mergers and acquisitions," Moorhead wrote.
Other observers, however, wonder whether Qualcomm's culture is too out of line with NXP's. Hibben called NXP an old-style semiconductor company and "the antithesis of Qualcomm."
The two businesses' differences begin with the fact that Qualcomm is a "fabless" semiconductor company, meaning that it outsources its chip production. NXP runs manufacturing facilities in the United States (Austin and suburban Phoenix), Europe and Asia.
Shares of NXP were trading in the $83 range but jumped to the $100 range on Sept. 29 when the financial press reported rumors that Qualcomm was planning to buy. Qualcomm shares also got a bump when rumors of the acquisition surfaced.