Kratos Reports Q3 Net Revenue of $165.4 Million
Thursday, November 3, 2016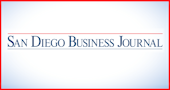 Kratos Defense & Security Solutions Inc. reported a GAAP net loss of $23.6 million, or 39 cents per share, on revenue of $165.4 million during its third quarter, which ended Sept. 25.
GAAP is an abbreviation for generally accepted accounting principles. It's the lens through which securities regulators and many publications view company performance.
In the year-ago quarter, the University City-based defense contractor reported net income of $55.1 million, or 92 cents per share, on revenue of $161.7 million. The quarter brought a $15.3 million benefit from income taxes and $50.8 million in income from discontinued operations, a statement distributed by the company said.
Kratos reported its quarterly financial results on Nov. 2.
Adjusted EBITDA for the recently ended quarter was $13.5 million, Kratos said. The figure reflects earnings before interest, taxes, depreciation and amortization as well as multiple other items determined by Kratos management, including the company's investment in its tactical unmanned combat system program. Kratos has high hopes for the program.
Kratos said it expects its unmanned systems business to approximately double in size over the next 24 months.
The business said its funded backlog of work was $582 million and its unfunded backlog was $319 million.