Different Kind Of Seed Stage
Originally published November 3, 2016 at 3:07 p.m., updated November 3, 2016 at 3:07 p.m.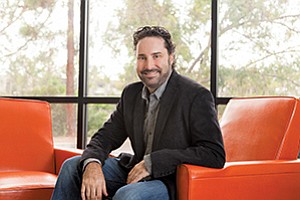 4 San Diego Startups Developing Cannabis Technology
These four companies are currently housed at Canopy
San Diego, an accelerator for technology companies in the cannabis space. They are among 10 startups in Canopy's first cohort. Canopy awarded each company $20,000 and
continues to foster their development through workshops, mentorship, and other programs.
DCN - Direct Cannabis Network
Founder: Adelia Carrillo
Direct Cannabis Network (DCN) is a digital news company that profiles startups and entrepreneurs in the cannabis industry. Founded in 2015, the website is a hot spot for product reviews on technology devices, products, and apps for the cannabis industry, along with features of innovative cannabis companies. DCN also has a calendar of events and web series for founders, including one called Coffee and Cannabis targeted at women entrepreneurs in the industry.
Inner Peace LifeStyle Gear
Founder: Jennifer Van Zutphen
Inner Peace Lifestyle Gear uses "odor trap technology" to make bags, backpacks, and other gear to transport marijuana. The company was launched with industry workers in mind, and has products to address many industry needs, including large duffle bags.
Loose Leaf Tech
Founders: Patricia Lopez,
Ryan Lopez, Ned Halicioglu, Shawn Asim
CEO: Daniel Hopson
LooseLeaf Tech is a secure, patient-focused data collection and tracking platform for the medical cannabis community. LooseLeaf Tech's platform allows patients and providers to capture, track, and analyze health care data on their smartphones. LooseLeaf Tech aims to better inform and advance the medical cannabis community's understanding of the efficacy of medical cannabis.
Icarus RT
Founders: Mark Anderson,
Ilya Shoniya
Icarus RT is a technology firm developing an add-on that will increase the efficiency of solar panels. The system provides energy independence and renewable power at a cost 40 percent less than the grid. This can translate to large cost savings for remote cannabis cultivation facilities with insufficient power structures, as well as cultivation facilities in states like California with limited power resources. Icarus RT also produces hot water on demand and includes heat storage that allows for extended hours of operation for residential, agricultural and remote applications.
Investors and entrepreneurs are starting to see green in the legal cannabis industry, but there's more than one way to cash in on the lucrative market...