Sempra's Q3 Earnings Hit $622M; SDG&E Posts $183M
Originally published November 2, 2016 at 2:52 p.m., updated November 3, 2016 at 1:11 p.m.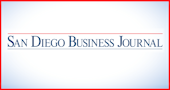 Sempra Energy posted a big jump in third-quarter earnings, due mainly to a gain related to one of its subsidiary's purchase of a Mexican pipeline builder and operator. After adjusting for one-time items, the company beat analysts' profit expectations but missed on revenue.
The San Diego-based energy services holding company said its quarterly earnings came to $622 million, or $2.46 per diluted share. A year earlier, net income totaled $248 million, or 99 cents per diluted share.
Excluding subsidiary Ienova's September acquisition of Mexican state-owned oil company Pemex's share of Gasoductos de Chihuahua, and other one-time items, Sempra's third-quarter earnings were $259 million, or $1.02 per diluted share. Revenues were up 2.2 percent from a year earlier at $2.54 billion.
Analysts polled by Thomson Reuters expected adjusted earnings of 96 cents per share and revenue of $2.68 billion, according to a report by MarketWatch.
Earnings of Sempra-owned utility San Diego Gas & Electric increased 7.6 percent from a year earlier to $183 million in the third quarter.
Sempra is a Fortune 500 company whose 2015 revenues exceeded $10 billion.