Homes Prices Edge up 5.9 Percent Since September 2015
Tuesday, November 1, 2016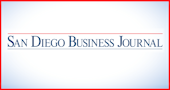 San Diego County home prices rose half a percent in September and are expected to register nearly as big an increase (0.4 percent) in October, according to a Nov. 1 report by Irvine-based financial information provider CoreLogic Inc.
The company's monthly update predicted the county's home prices will jump another 9.9 percent by September 2017, having climbed 5.9 percent in the 12 months ended in September 2016.
CoreLogic called the county's market conditions "normal," which is notable in that it sees Los Angeles County's market as overvalued. But the San Diego area will be overvalued by 2021, the company projected, without specifying when conditions might switch from being what it considers normal.
In California overall, the company said home prices inched up 0.1 percent in September, or 5.8 percent year over year. It forecast a 0.3 percent statewide increase in October, and a 9.0 percent rise by September 2017.
Nationally, home prices were up 1.1 percent in September, and have increased 6.3 percent year over year. CoreLogic predicted U.S. home prices will rise 0.3 percent in October, and 5.2 percent by September 2017.