Wage Increase Takes Toll on Business Optimism
Originally published May 26, 2016 at 7:51 a.m., updated May 26, 2016 at 7:51 a.m.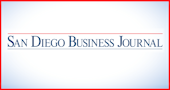 San Diego — San Diego County business owners are less optimistic about prospects ahead because of the planned increases in the minimum wage and their own doubts about future hiring, the San Diego Regional Chamber of Commerce reported May 19.
The chamber said that its monthly business outlook index dropped from 26.9 points in March to 19.4 points in April. The index stood at 19.4 in February.
Competitive Edge Research & Communication conducted the countywide survey for the chamber, polling 232 business people between April 14 and April 29.
Business people in the retail and hotel industries are most concerned about the wage hike, as are business people in inland North County, the chamber said.
"It's clear from this survey that a rising minimum wage presents across-the-board hurdles to county businesses and there is concern that some of these businesses may leave the state," chamber CEO Jerry Sanders said in a prepared statement. "We understand the pressures mandatory wage increases have on business owners which is why the chamber has voiced our opposition to Proposition I, the city of San Diego's minimum wage ordinance."
Some 33 percent of survey respondents said a minimum wage hike was the most negative state regulation they face.
The city of San Diego could raise its minimum wage very soon. If city residents pass Proposition I on the June 7 ballot, the wage will go from $10 per hour to $10.50 per hour immediately, and to $11.50 per hour on Jan. 1. There is a program for increases after that.
Other areas in San Diego County will feel a minimum wage hike on Jan. 1, under legislation signed by Gov. Jerry Brown in April. Statewide, the minimum wage will rise from $10 per hour to $10.50 per hour on Jan. 1; it will then rise on every Jan. 1 after that, reaching $15 an hour on Jan. 1, 2022. (Small businesses with 25 or fewer employees will have an additional year to meet the requirements.)
The last time the minimum wage rose was Jan. 1, when it went from $8 to $10 per hour.
The chamber said that the negative effect of the minimum wage increase is seen across all four of the index's metrics: hiring, employee hours, revenue predictions and business conditions. In addition, the number of companies reporting minimum wage as a new challenge this month has more than doubled from 5 percent to 12 percent.
Pollsters checked in with 232 randomly selected members of the San Diego, East County, Alpine, Escondido, Lakeside, Vista, Santee and National City chambers of commerce.
Silvergate Bank sponsors the chamber survey.