San Diego Venture Group's Cool Companies Set to Show Their Tech Talents
Sunday, May 22, 2016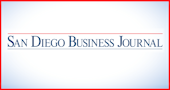 San Diego Venture Group is giving dozens of local startups a stage to show off their tech at its yearly "Cool Companies" event in early June. Shortly after the event, the startups will get private meetings with over 30 venture capitalists visiting from Silicon Valley and Los Angeles.
"We're working hard to attract capital to San Diego, and to show off our best and brightest to investors who will proactively place money into this market," said SDVG President Mike Krenn.
The venture group received 140 applications this year for the Cool Companies list, but only 31 made the cut. A committee selected the winners believed to be most "venture ready," Krenn said. Criteria included a survey of the management team, the startup's area of focus, the potential market size, and the current operational status, among other factors.
Twenty of the 31 chosen companies will present at SDVG's Cool Companies event on June 7 (open to the public) at Farmer & The Seahorse, a restaurant and event space at The Alexandria at Torrey Pines.
Then on August 11, SDVG is hosting a private event only open to the startup founders who made the Cool Companies list. Here, the founders will have private sessions with 30-plus investors from Silicon Valley and Los Angeles, Krenn said in an email.
"Our focus is to continually beat the bushes and build a bridge to Silicon Valley — all with a focus on benefitting our local startups," Krenn said.
SDVG will bring an additoanl batch of 80 investors to town in early September for the group's Venture Summit.
The 2016 San Diego Venture Group Cool Companies are:
Approved
Brojure
Certona
CircleShout
Cloudbeds
CourseKey
CureMatch
Dermala
Feetz
Forge Therapeutics
Fragmob
Leading Biosciences
LeadCrunch
LoanHero
Lymber
MindTouch
Ossic
Phluido
Robo 3D
Secured Universe
SkySafe
SparkFin
SweetLabs
Tourmaline Labs
Underground Elephant
Wildcat Discovery Technologies
Wrapify
XY Findables
Xycrobe Therapeutics
Zebit
Zingle