San Diego Ranks Third Nationally for Clean Tech Leadership
Tuesday, May 17, 2016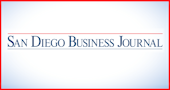 San Diego ranked third in a national clean tech leadership index released May 17 by Clean Edge Inc.
Clean Edge Inc., a clean tech research firm, released its seventh annual U.S. Clean Tech Leadership Index, which tracks and ranks clean energy and clean tech activities of the 50 largest metropolitan areas in the U.S. This includes everything from electric vehicles and renewables to policy and investment activity, according to a release from Clean Tech San Diego.
San Diego moved up this year from fourth place with a leadership score of 55.8. San Francisco and San Jose top the list again at No. 1 and No. 2.
According to the release, San Diego's ranking was determined by its high scores in the following categories: advanced transportation (third), carbon electricity and carbon management (third), clean tech investment, innovation and workforce (fifth), and green buildings (19th). San Diego has over 1,000 LEED and Energy Star buildings and 14,366 electric vehicles, a 680 percent growth over the 2012 index. San Diego raised $828 million in clean tech venture capital funding in the last three years and was one of three cities in the index with a 100 percent renewable electricity pledge. The region also ranked No. 2 in installed solar per capita.
"The San Diego metro area continues to show strong leadership in deployment of advanced vehicles and their charging/fueling infrastructure, clean electricity and carbon management, and clean tech investment," said Clint Wilder, senior editor at Clean Edge and one of the index's lead authors, in the release. "But San Diego's crown jewel may be its passage of a new Climate Action Plan in December 2015."
The only other metropolitan area on the list from California was Los Angeles, who came in sixth.