SOFTWARE: SENSORS USED TO IDENTIFY VARIOUS PROBLEMS IN CROPS
Drone Technology Gives Farmers A More Precise 'Field of Vision'
Originally published May 12, 2016 at 2:34 p.m., updated May 12, 2016 at 2:34 p.m.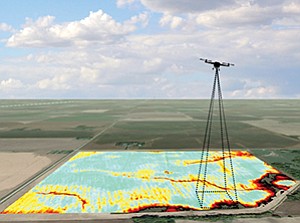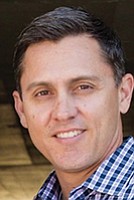 San Diego — Drones can't deliver your supper — not in U.S. airspace — but they have already worked their way into the food chain.
Companies such as San Diego-based Slantrange Inc. are beginning to help farmers manage their crops. Their promising new tools include sensor-equipped, model-sized aircraft that can fly over agricultural land and take pictures — or rather, gather sophisticated imagery.
Slantrange claims those images can help farmers boost yields up to 10 percent.
The 3-year-old business does not make drones; farmers have to get their aircraft from other sources. What Slantrange does is equip the drones with miniature sensors and software that evaluate the quality of light (visible and near-infrared) coming off the field.
This month, Slantrange introduced a second generation of these products.
The business, with offices tucked into the canyon between Clairemont and La Jolla, used a recent unmanned aviation tradeshow to unveil its next generation drone-mounted sensors, and the software to interpret sensor data. The sensors include a basic model and an advanced model for the more technically inclined. Both feed into a tightly integrated software suite that maps fields to determine plant density, weed density and areas of stress. That stress might be due to pests, nutrient deficiencies or a lack of water.
Armed with that information, farmers can estimate yields; learn where to apply water, herbicide or pesticide; or make an economic decision to give up on a field and replant it.
Detailed crop maps mean farmers can apply herbicides or pesticides with surgical precision.
Remote Sensing and Seed Funding
Drones really haven't been built for the precise needs of agriculture, said Mike Ritter, the company's CEO. Ritter and co-founder Mike Milton are working to change that.
The two previously worked on remote sensing technology at General Atomics Aeronautical Systems Inc.. Ritter also worked on similar technology at the Scripps Institution of Oceanography.
Agricultural industry players, including groups from Texas and Nebraska, made some of the earlier investments in Slantrange. Late in April, the business closed a $5 million series A venture round; Sheldon Lewis was the lead investor of a consortium that calls itself The Investor Group. The latter includes "a large international ag business family," Ritter said.
Slantrange hopes to use its recent funding for product development and to scale the business.
Ritter and Milton are pursuing four patents on technology in their new products. The new products collect and process data more efficiency, Ritter said.
Competing systems sometimes require a farmer to upload information to the cloud; broadband networks, however, are better suited for downloads. By contrast, Slantrange products allow farmers to process their data in the field.
"There's no upload required," Ritter said. "… You've already got a processor in the sensor. Why not use it?"
The company's Slantview analytics software will process imagery from a 160-acre field in less than five minutes, Ritter said. A field of that size is a half-mile long and a half-mile wide.
Slantrange technology also requires 20 percent overlap of snapshots, while traditional mapping techniques might require up to 80 percent. Because of this, Slantrange advertises that farmers can cover four times the area per flight, or reduce labor costs by a factor of four.
A Commodity Curveball
Slantrange was originally hoping to market its technology to corn, soy, wheat and rice farmers in America's heartland, but growers today are not getting much for their crops and are even scrimping on necessities such as fertilizer.
"The commodity prices are so low, they make technology adoption difficult," Ritter said.
So Ritter and his coworkers have pivoted their sales strategy. They are now going after specialty farmers in the Imperial, San Joaquin and Sacramento valleys — people who grow organic lettuce, cabbage, sugar beets, almonds and pistachios.
Meanwhile, farmers from Australia, South Africa and Latin America have sought out Slantrange to help improve their yields.
Slantrange has 10 employees, including one in Nebraska. Company employees build the sensors in the company office on Morena Boulevard.
Slantrange rolled out its new products when the unmanned aircraft community gathered in early May in New Orleans. The occasion was AUVSI's Xponential show. AUVSI is the Association for Unmanned Vehicle Systems International.
SLANTRANGE INC.
CEO: Mike Ritter
Revenue: Undisclosed
No. of local employees: Nine
Investors: The Investor Group consortium, Motus Ventures, unnamed investors from Nebraska and Texas, the founders
Headquarters: Rose Canyon
Year founded: 2013
What makes the company innovative: Slantrange makes patent-pending sensors and software to help farmers map crop health and see where they might intervene to improve yields