Donald Knauss Named Chairman of USD Board
Thursday, May 12, 2016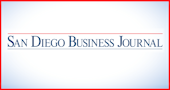 The University of San Diego board has named Donald R. Knauss as its new chairman, effective July 1. Knauss will succeed Ron Fowler, who is stepping down from the chairman's post.
Also joining the board on July 1 are Arizona attorney Mark Bosco and Tom Mulvaney, who is a 1977 graduate of the USD School of Law.
The University of San Diego is a private, Catholic university chartered in 1949.
Knauss joined the USD board in 2008 when he was chairman and CEO of Oakland-based Clorox Co. He also spent 12 years with The Coca-Cola Co.
Fowler has been on the board since 1996 and has served as its chairman since 2006. He is executive chairman of the San Diego Padres and chairman and CEO of Liquid Investments.