Vanguard Space Technologies Acquired By Albuquerque Company
Wednesday, May 11, 2016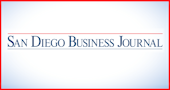 Albuquerque, N.M.-based SolAero Technologies Corp. said May 11 that it has acquired Miramar-based Vanguard Space Technologies Inc., a builder of satellite components, for undisclosed terms. The seller was Enlightenment Capital.
Vanguard had 105 employees in 2014. In a May 2014 interview, CEO Frank Belknap said the company was on track to have $30 million in revenue.
No near-term changes to any of the companies' operations are planned, SolAero said in a statement. Vanguard will operate under SolAero's Alliance Spacesystems brand name.
SolAero specializes in satellite solar power and structural solutions. Vanguard makes satellite bus structures and antenna reflectors.