Jean-Claude Kyrillos Appointed VP of Business Operations at Qualcomm Life
Tuesday, May 10, 2016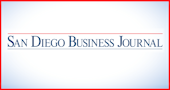 Qualcomm Life, a subsidiary of Qualcomm Inc., named Jean-Claude Kyrillos as vice president of business operations, the company announced May 10. Kyrillos will report to Rick Valencia, senior vice president and general manager of Qualcomm Life.
Kyrillos, who goes by the initials J.C., is a familiar face in San Diego. He brings more than 13 years of executive leadership in the medical device industry, including acute care, home care and diagnostics. In announcing the appointment, Qualcomm (Nasdaq: QCOM) noted that Kyrillos has expertise in developing and executing operational strategies and efficiencies.
Kyrillos was previously worldwide vice president and general manager of Becton, Dickinson and Co.'s global Infusion Solutions business — which was previously part of CareFusion. In that role, he led the overall strategy and operations of BD's Alaris infusion pump systems and associated technologies. Before joining CareFusion in 2011, he was president of ResMed Ventures and Initiatives. He also served as co-leader for ResMed, Americas.
Kyrillos received his MBA from Harvard Business School.
He serves on the boards of directors for the San Diego Blood Bank and the Sharp Healthcare Foundation.