Navy's Unmanned Ship to Be Put to the Test in Point Loma
Originally published May 5, 2016 at 12:43 p.m., updated May 5, 2016 at 12:43 p.m.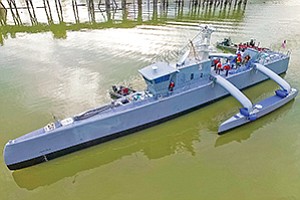 San Diego — It's an unmanned machine made of carbon fiber, one that can stay on station for ridiculously long periods of time. Nothing new for San Diego, right? Except this one is 132 feet long and doesn't fly.
It floats.
The U.S. Navy is testing a prototype unmanned 140-ton vessel built to follow submarines, sweep for mines and do an expanding list of tasks.
Leidos — the defense contractor that began life as Science Applications International Corp. in La Jolla — built the ship in Portland, Oregon. The Navy brought it to San Diego by barge in late April.
SPAWAR Systems Center Pacific on Point Loma will be its homeport during two years of tests. Leidos will have 10 to 15 employees on the program in San Diego for the tests, a company spokeswoman said. The business has 900 San Diego employees in all, down from 1,140 in the middle of 2015.
The ship, called Sea Hunter, is the product of a program called ACTUV, short for Anti-Submarine Warfare Continuous Trail Unmanned Vessel. The Pentagon agencies backing the project are the Office of Naval Research and DARPA (the Defense Advanced Research Projects Agency).
Sea Hunter is a trimaran, with a large central hull and two small outrigger hulls to provide stability. In initial trials on the Columbia River, the ship hit 27 knots, according to an official Pentagon account.
It will be autonomous, taking bare-bones commands such as its ultimate destination. Sea Hunter's computers will decide by themselves how to avoid obstacles along the route. It could operate with human help in difficult areas, such as harbors.
At the start, Sea Hunter will leave Point Loma for day trips. The plan is to crawl, walk and then run, said Scott Littlefield, DARPA program manager for ACTUV. Ultimately, Sea Hunter's builders see it staying out for months at a time.
Much of the testing over the next two years will cover collision avoidance technology, Littlefield said, adding that by mid-2017, program officials hope to equip the ship with an advanced optical system involving stereoscopic vision. NASA and Jet Propulsion Laboratory are developing the system.
DARPA has spent $120 million on the ACTUV program so far, and the initial ship cost $23 million. If the Pentagon decided to buy in volume, the vessel would cost about $20 million per copy, Littlefield said — though it's not yet clear yet whether Sea Hunter will be a one-hit wonder. Whatever its fate, lessons learned during the program will be applied to whatever future autonomous vessel the Navy builds.
Defense Department engineers are already considering commercial uses for the military technology. Large shipping companies have been in touch with DARPA about the unmanned technology, and whether such a system could be used on cargo vessels, Littlefield said.
What's in it for San Diego? The region already has an autonomous vehicle brain trust with talent at aircraft makers General Atomics Aeronautical Systems Inc. and Northrop Grumman Corp., at universities and at many smaller firms. The region's coterie of Navy scientists will likely get more acquainted with autonomous ship technology over the next two years.
• • •
An Unseen Communications Link: The U.S. Air Force likes its BACN.
BACN, pronounced "bacon," is essentially an aircraft flown above a battlefield that works as an Internet server and military communications relay. It links various systems that wouldn't normally communicate among themselves. Northrop Grumman (NYSE: NOC) oversees the system from one of its San Diego office.
The service announced April 28 that it will spend $62 million more on the project through January. Work will be done in San Diego and in unidentified overseas locations. The Air Force Life Cycle Management Center at Hanscom Air Force Base, Mass. awarded the contract modification covering payload operations and support for BACN (which, by the way, really stands for something: Battlefield Airborne Communication Node).
Send San Diego defense contracting news to bradg@sdbj.com.