PHARMA: ACADIA PREPARES TO LAUNCH DRUG TO TREAT PARKINSON'S PSYCHOSIS
Birth of a Blockbuster?
Originally published May 5, 2016 at 12:12 p.m., updated May 5, 2016 at 12:12 p.m.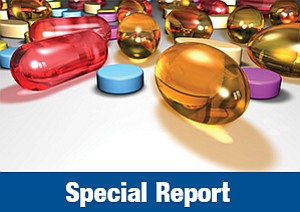 San Diego — Acadia Pharmaceuticals Inc. has earned the greenlight from regulators to sell a valuable antipsychotic drug. The medication, potentially worth billions, quells the hallucinations and delusions experienced by Parkinson's disease patients. And it's the first of its kind.
The drug, called Nuplazid, is Acadia's first medication to be approved by the U.S. Food and Drug Administration. It's also the first medicine ever approved to treat Parkinson's disease (PD) psychosis.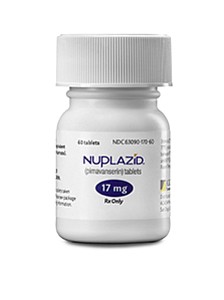 "Patients have been waiting forever for a treatment like this to surface," said Dr. Jason Kellogg, a physician and psychiatrist who has been treating mental illness for over a decade.
Parkinson's is a disease that affects movement, muscle control, and balance, and its symptoms are caused by a deficiency of the chemical dopamine in the brain. Drugs that boost dopamine production are often prescribed to treat the disease's motor symptoms (tremors and rigidity), but there's more to Parkinson's than loss of motor function. Half of all patients also develop psychosis.
Delusions and hallucinations are a particularly devastating symptom of the disease, not just for patients but for family and caretakers. One patient in Southern California experienced a progressively debilitating case of PD psychosis, chronicled online by his wife. Several years into his diagnosis, he started seeing black cats traipsing through his house, a creature in his bed, and groups of imaginary people gathering in his living room, particularly at night. He developed paranoia around computers, and had long conversations with his brother when his brother was not there.
Psychosis Drives Hospitalizations
"It's the psychosis that drives hospitalization and placement into long-term care," Kellogg said. "These patients end up in nursing homes because of the hallucinations and delusions, not because of the tremors."
Since there's been no approved treatment for PD psychosis, doctors have been left to prescribe other antipsychotics — ones that end up doing more harm than good.
"When you use current antipsychotics to treat Parkinson's disease psychosis, you worsen half of the problem," Kellogg said.
All antipsychotics previously on the market inhibit dopamine production. And remember, a deficiency of dopamine is what causes Parkinson's in the first place. So a doctor must choose to either worsen the psychosis, or worsen the motor symptoms.
"It's like trying to go north and south at the same time," Kellogg said.
Doesn't Suppress Dopamine
Acadia's new drug, Nuplazid, is groundbreaking in that it's the first antipsychotic that does not suppress dopamine production.
The novelty of the drug is important, and makes Acadia the owner of a potentially blockbuster product. The Parkinson's psychosis market is big enough for Acadia to earn $1 billion or more in Nuplazid sales but only if doctors get comfortable using the drug widely to treat delusions and hallucinations. That could take some time. Nuplazid, like other antipsychotics, carries a black box safety warning alerting doctors to the increased risk of death in elderly patients.
The black box warning is the strictest and most severe label for prescription drugs, and 100 percent of antipsychotic drugs carry the warning. It suggests there is reasonable evidence of "an association of a serious hazard" with the drug.
But Kellogg said the black box warning wouldn't scare him from prescribing Nuplazid.
"All antipsychotic drugs have a black box warning, and I've been living with that risk for the past 15 years," Kellogg said. "In my world, not treating the psychosis is far worse."
Sales Potential
Investors are willing to give Acadia market-value credit today for some Nuplazid sales, but not quite $1 billion's worth — not yet. Needham & Co. analyst Alan Carr estimated that Nuplazid would earn $500 million in annual sales to start, but with potential to reach over a billion if the drug is prescribed for other indications such as Alzheimer's and schizophrenia.
Acadia is already in later-stage human trials in those indications, but Alzheimer's and schizophrenia are different diseases than Parkinson's psychosis. The trials could fail. Still yet, there's potential for "off-label" use of a drug like Nuplazid.
Other antipsychotic drugs, such as Abilify, have been linked to death, heart failure, and other dangerous side effects, and yet the drug earned Otsuka
Pharmaceutical Co. Ltd. $6.4 billion in sales in 2013. That's because sales of antipsychotic drugs such as Abilify have largely been created with off-label use. Psychosis tends to share effects across a number of diseases. These include neurological diseases such as Parkinson's, Alzheimer's, and Lewy Body Dementia, but also psychiatric diseases such as schizophrenia, depression, and mania.
Takeover Target?
The sales numbers of other antipsychotic drugs alone suggest that Nuplazid will be very successful commercially. So successful that Acadia may be primed for takeover.
Baker Brothers Advisors, a hedge fund that focuses on trading in public life science companies, owns a big chunk of Acadia. Co-founder Julian Baker sits on Acadia's board of directors, as does Baker Brothers partner Stephen Biggar. The most logical (and profitable) exit strategy for Baker Brothers is to push for an Acadia sale.
Acadia owns 100 percent of Nuplazid. An unencumbered, FDA-approved drug is a valuable asset. Every blockbuster antipsychotic of the last decade has lost patent protection, most recently Otsuka and partner Bristol-Myers Squibb with Abilify. These pharmaceutical companies already have the manufacturing capabilities, the sales force in place, and all pertinent infrastructure to market a drug such as Nuplazid.
A number of Big Pharma companies already selling central nervous system drugs could find Acadia an attractive and profitable addition. Potential suitors include Japanese drug makers such as Takeda Pharmaceutical Co. and Otsuka, both with a reputation for bidding aggressively for U.S. drug assets.
Acadia, whose president and chief executive declined to be interviewed for this piece, stated in a news release that it will launch Nuplazid in June.