FINANCE: COMPANY TO OFFER A COMMERCIAL VERSION OF ITS LENDING
Renovate to Expand Outside of California With PACE Loans
Originally published March 31, 2016 at 2:34 p.m., updated March 31, 2016 at 2:34 p.m.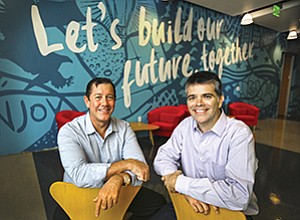 San Diego — Renovate America, by far the largest provider nationwide for a clean energy financing initiative called PACE, is set to capitalize on its leading position next month as it expands outside California and launches a commercial version of its product.
Property Assessed Clean Energy, or PACE, programs, allow property owners to make energy-efficient upgrades with no upfront costs and then pay them off through special tax assessments. San Diego-based Renovate has funded $1.35 billion worth of PACE upgrades to homeowners, the vast majority of a $1.7 billion industry, according to advocacy group PACENation. Commercial PACE financing accounts for an additional $250 million.
The first PACE programs were created in 2008 to combat property owners' hesitancy to spring for costly solar panels or water-saving systems if they were unsure how long they would stay at that same address.
"When you go to sell your house and you've put more efficient windows in, you can't take those products with you, so 75 percent of the time, (homeowners) have historically selected the least-efficient products," Renovate CEO J.P. McNeill said. "High utility bills, high emissions, the drought — all of those are impacted by the products a homeowner selects."
But with a PACE loan, the debt is tied directly to the property, not its owner. PACE can cover a host of upgrades, including HVAC systems, energy-efficient windows, gray water systems and drought-tolerant landscaping.
Automating the Process
Renovate is one of several companies that partners with local governments to offer PACE financing and has created a technology platform that automates the required documentation. Its product is called Home Energy Renovation Opportunity, or HERO. It also vets a network of contractors to protect consumers.
Renovate funds the projects once the contractors' work is complete and homeowners sign off on the upgrades. Its issuing partners — Los Angeles County, the Western Riverside Council of Governments and San Bernardino Associated Governments — then create bonds each week for the value of the upgrades, with Renovate holding the bonds. The financing is repaid through the homeowners' property tax bill. Renovate also securitizes the bonds on a regular basis.
Renovate doesn't have a credit score requirement, but won't finance more than 15 percent of a home's value and requires borrowers to have at least 10 percent equity in their home. Interest rates run between 6.75 percent and 8.35 percent, with administrative fees of 5 percent to 6 percent of the loan amount.
Renovate and other PACE providers have helped accelerate solar panel adoption, a big-ticket item whose utilities savings may not allow homeowners to break even for years, according to Rick Rothman, CEO of installer SunUp Energy.
"One of the biggest impediments to the growth of solar over the years has been the upfront cost associated with these systems," Rothman said. "A homeowner doesn't want to invest $25,000 out of pocket."
Hit a Snag
Residential PACE lending hit a snag in 2010, when the Federal Housing Finance Agency, regulator of Fannie Mae and Freddie Mac, called on local governments to pause the program amid concerns PACE lenders had been allowed to jump ahead of the two mortgage purchasers. PACE financing has a tax lien priority ahead of private debt, meaning Renovate and other PACE lenders would get paid before Fannie or Freddie if a homeowner foreclosed. FHFA eventually said it supported energy retrofitting but Fannie or Freddie couldn't buy mortgages when the property had a PACE loan attached.
Renovate countered that PACE upgrades result in more homeowner cash flow, lowering foreclosure risk, and that homes with PACE-backed projects could sell for a premium of up to $8,800 even after factoring in finance costs.
"Nevertheless, the agencies viewed this as a philosophical argument, not whether it's good or bad for them," McNeill said. "They just don't like senior liens."
That caused some companies to pull back from residential PACE in favor of its commercial counterpart, but Renovate said it has still found strong consumer demand. It funded $702 million worth of residential projects last year and has funded $220 million so far this year.
Renovate has also agreed to subordinate its rights at a homeowner's request when they sell or refinance, at no charge. The Federal Housing Authority in August said it was developing guidance for PACE loans in collaboration with the FHFA that would require such subordination.
Interest in residential PACE has been so high that public agencies have been pushing for more financing partners, according to Figtree Financing CEO Mahesh Shah. Figtree offers only commercial PACE, but said the California Enterprise Development Authority and others had recently started asking if it could provide residential products as well to give property owners more options. Figtree announced a $30 million investment last week that would help it launch a residential program later this year and expand its commercial offerings to Colorado, Virginia, Maryland and Missouri.
A 'Business Decision'
"The regulators' position hasn't changed, but municipalities got more comfortable," Shah said. "As long as we provide appropriate disclosures, it's a business decision for the property owners."
Renovate closed a $90 million financing round in October, bringing its fundraising total to $175 million. Next month it will start operations in Missouri with Florida to follow soon after. The company will also move into commercial PACE next month, according to McNeill, seeking to take advantage of growing awareness of the program in the more than 30 states that allow it.
Renovate America
CEO: J.P. McNeill
Revenue: Undisclosed
No. of local employees: 650
Headquarters: San Diego
Year founded: 2009
Company description: Renovate finances clean energy upgrades, including solar panels and gray water systems, which are eventually paid back through added property tax assessments.