Roberts Appointed to Leadership Role at Latham & Watkins
Originally published March 24, 2016 at 1:05 p.m., updated March 24, 2016 at 1:06 p.m.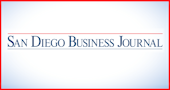 San Diego — Brook B. Roberts has been appointed the managing partner of Latham & Watkins LLP's San Diego office. He succeeds Brett P. Rosenblatt, who has completed a five-year term in the position.
Roberts, 45, is a member of the firm's Environmental Land & Resources and Litigation & Trial Departments, and a former global co-chair of the Insurance Coverage Practice Group. He will maintain his practice focused on insurance and environment litigation while also taking on the office leadership role. He joined Latham as an associate in 2001 and was elected to the partnership in 2009.
Rosenblatt will continue his practice in the firm's Finance Department after a successful tenure as office managing partner that was highlighted by Latham moving in 2014 to a newly constructed office in Del Mar. The San Diego office currently houses 83 lawyers and 48 staff.
• • •
Thorsnes Bartolotta McGuire was recently awarded the prestigious 2015 Litigator Award for extraordinary achievement within the field(s) of: Commercial Litigation, Eminent Domain, and Personal Injury Litigation.
"Earning a 2015 Litigator Award is a powerful endorsement of superior litigation achievement by our entire firm, providing our clients as well as referring professionals with a strong reason to trust their case to us," said Vincent J. Bartolotta Jr., managing partner of the firm. "Since this award is based on courtroom results, it is an amazing testament to our firm's achievements."
• • •
The San Diego County Bar Association has announced the recipients of its 2016 SDCBA Service Awards. The annual awards recognize distinguished individuals and organizations for their commitment to serving the San Diego community. Winners will be recognized at the SDCBA's Annual Awards Luncheon & Celebration of Community Service on May 6 at the Westin San Diego (Emerald Plaza) from noon to 1:30 p.m. And the winners are:
Charles Dick, of Law Office of Charles H. Dick Jr., will be recognized as Outstanding Attorney of the Year, given to an exemplary attorney who provides outstanding community service above and beyond just service to the legal profession. The Hon. Tamila Ipema, San Diego Superior Court, will be recognized as the Outstanding Jurist, presented to an exemplary jurist who provides outstanding community service above and beyond service to the legal profession. Olga Álvarez, Heisner Álvarez, APC, received the Service to Diversity award for outstanding service by a member of the legal profession in promoting and encouraging diversity within the legal profession. Frederick Schenk, Casey Gerry Schenk Francavilla Blatt & Penfield, LLP, received the Community Service award for outstanding service to the needs of the community (e.g. charitable, cultural, humanitarian or educational), other than directly through the SDCBA. George Brewster, Office of the County Counsel, received the award for Service by a Public Attorney, presented to an individual who demonstrates a combination of excellence in the practice of law with service to the community, the profession, the association or legal education. Brigid Campo, Law & Mediation Firm of Klueck & Hoppes, APC, was recognized for Outstanding Service by a New Lawyer. This one might speak for itself, but the service must come in the first six full years of practice. San Diego Unified School District and the Crawford Academy of Law received the award for Public Service by a Law Firm or Agency, which recognizes outstanding service by a law firm or agency (public or private) for public or community service.
• • •
Procopio, Cory, Hargreaves & Savitch LLP wisely re-elected Tom Turner as managing partner for his sixth consecutive term. Turner, who was first elected in 2001, has led the firm during a period of incredible growth and success during challenging financial and competitive times.
Under Turner's leadership the firm has grown its employee count 150 percent to more than 150 attorneys, making Procopio the largest San Diego firm. He was a driver in establishing Procopio Business Advisors, a business unit separate from the law firm that is focused on helping businesses with strategic planning, as well as in the creation of LaunchPad, an incubator for start-up companies that sits within the firm's Del Mar Heights office.
• • •
In more Procopio news, Michele B. Brown, Mindy M. Morton and Wendy L. Tucker were elected Procopio, Cory, Hargreaves & Savitch LLP partners earlier this year.
Brown is a member of the Family Law Group, where she handles dissolution of marriage, paternity, custody, support and pre-marital agreement matters. Morton is a member of the Intellectual Property Litigation Team. Tucker is a member of the Labor and Employment Team.
• • •
Mark R. Wicker has joined the Perkins Coie's Technology Transactions & Privacy practice as a partner. Previously, Wicker was a partner at Morrison Foerster.
Wicker advises clients in all aspects of acquiring, developing, commercializing and licensing new technologies and products.
• • •
Adam B. Levine has joined CaseyGerry, firm partner David S. Casey Jr. announced. Levine – previously a law clerk with CaseyGerry for two years – will join the team specializing in serious personal injury and aviation litigation.
"Adam, who is the son of the late Harvey Levine, a revered San Diego trial lawyer, brings impressive credentials as well as a legacy of legal excellence to CaseyGerry," said Casey Jr. "We are thrilled to have him join our growing legal team and are confident he will be an invaluable addition as we continue to take on complex, high stakes cases."
Randy Frisch is vice chancellor of business administration at National University and a former publisher of the San Diego Business Journal. He is licensed to practice law in California, Nevada and Idaho. He can be reached at rcfrisch@msn.com.