TECH: DRONES ANALYZE VARIETY OF ENVIRONMENTS
NWB's 'Air Force' Is Mission Ready
Originally published March 17, 2016 at 12:57 p.m., updated March 17, 2016 at 12:57 p.m.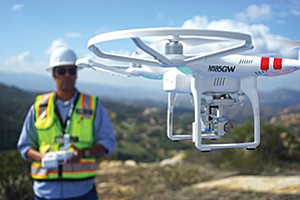 San Diego — NWB Environmental Services LLC has launched an unmanned aircraft services program it believes will save the company and its clients time and money.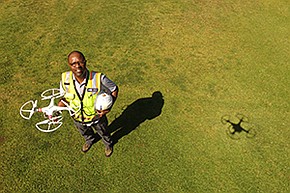 San Diego-based NWB is a 4-year-old firm that provides archaeological, environmental and wildlife evaluation and monitoring for construction and development projects.
It launched its drone program in December of 2015 under the direction of a seasoned military pilot.
"We recognize that this is something that's going to be widespread at some time," Michael Taylor, president of NWB, said of the service. "So there was the excitement of being on the forward edge of this particular technology. This appealed to us quite a bit."
NWB has FAA approval to fly the drones commercially. The company employs two on-call pilots in addition to its flight operations manager.
NWB offers a range of services, including high-resolution mapping, aerial surveys and 3-D modeling, photogrammetry (stitching groups of photos together), digital elevation mapping, thermal imaging and multispectral photography.
The company owns four drones, each of which is equipped with GPS and designed to provide professional aerial photography and cinematography from multiple angles.
Google Maps' satellite imagery shows 20 centimeters per pixel, so every pixel is 20 centimeters on the ground. With the drones, NWB can get as low as one to two centimeters per pixel. That's the difference between being able to identify a car and being able to identify a license plate.
Costs Vary
Taylor said the cost for services varies based on time in the field and post-processing time. As a new program, they're still fine-tuning their pricing.
The company made $1.2 million in revenue in 2015, Taylor, 51, said.
"I can anticipate probably doubling our operations technically within six months to a year," he said.
Christopher Hipwood, UAV program director for NWB, said it was difficult to predict the clientele and uses for the program.
Its first client, a research and development government contracting firm, was developing sensors for the front of military helmets for active-duty troops and tested the acoustics of the sensors with drones in mid-January.
Brian Shubsda, flight operations manager for NWB and an FAA-licensed pilot, cautions against using drone terminology.
"So a lot of people get into the idea (that) the aircraft is a toy," Shubsda, 28, said. "But it is an aircraft. … It should be operated like a manned aircraft."
Shubsda is a reserve officer in the Navy who previously served as a UH-60 Blackhawk pilot in the Army. He deployed to Afghanistan three times as an employee of a private contractor and operated drones as a UAV mission commander.
Variety of Potential Clients
NWB is in talks with a biology firm to map and measure vernal pools and will record and document the pools the next time it rains.
Construction companies could save time with their stockpile volume calculations using drones, which would replace the need to send out a person with a handheld GPS. By taking 3-D photos and creating a model of an object such as a concrete quarry, for example, NWB can determine how much concrete there is. They can do the same measurements with soil for calculating biomass or determining plant health.
"We could show up onsite, unpack, fly it, be offsite in half an hour, bring it back here, do the processing and within a couple hours, we can give them a volume on their stockpiles," Hipwood, 33, said.
The company predicts creating 3-D models for storm water regulations, compliance, planning, and hydro-flow prediction.
The unmanned aircraft could also address biological concerns, such as whether a bird's nest is in the wrong place. Construction workers could use the technology when operating near transmission lines and police could use it to map and record crime scenes. Real estate agents could use the aircraft to showcase homes overhead and with 360-degree images.
NWB ENVIRONMENTAL SERVICES, LLC
CEO: Michael Taylor
Revenue: $1.2 million (2015)
No. of local employees:17
Headquarters: Downtown
Year founded: 2012
What makes the company innovative: Using unmanned aircraft in industries still adjusting to availability of more advanced technological tools