Ligand Pharmaceuticals Receives $6 Million Milestone Payment
Tuesday, March 15, 2016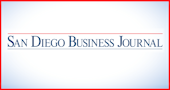 La Jolla drugmaker Ligand Pharmaceuticals has earned a $6 million milestone payment from Irvine-based partner company Spectrum Pharmaceuticals.
The milestone was tied to the U.S. Food and Drug Administration's approval of Spectrum's drug Evomela. The company licensed global development and commercialization rights to the drug from Ligand Pharmaceuticals in March 2013. Spectrum assumed responsibility for completing the pivotal Phase 2 clinical trial, and was responsible for filing the New Drug Application.
Under the license agreement, Ligand received an upfront fee and earned the $6 million milestone payment on Evomela's approval, as well as royalties on net sales.
Ligand focuses on developing programs that lead to licensing deals or acquiring royalty revenue-generating therapeutic assets. These therapies address a broad spectrum of diseases, including multiple myeloma, diabetes, anemia and osteoporosis. The company has a large portfolio of biotech assets, with over 125 fully funded partnered programs.