View of the Top Shows Some Wonderful Selections for Buyers
Originally published March 14, 2016 at 10:41 a.m., updated March 14, 2016 at 10:41 a.m.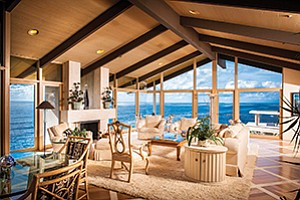 San Diego — The climate in San Diego is among the best in the world, but one that comes with a cost that shows no sign of slowing its climb.
A review of median prices in 2015 for San Diego County revealed 10 ZIP codes with a median price of more than $1 million for sales of detached, single-family homes.
The highest median prices were two ZIP codes within Rancho Santa Fe — 92067, otherwise known as "the covenant" and 92091. The 92091 ZIP is made up of four oddly-shaped parcels of land, two on the west side of 92067 and two on the east side.
No surprise there, but both were among those with the smallest percentage increase in median prices compared with 2014.
The highest-priced sale in the county in 2015 was the sale of "Foxhill," the former Copley estate at 7007 Country Club Drive in La Jolla. The Copley family was the former publisher of The San Diego Union-Tribune. The property was listed for $28 million in October 2013 and after a series of reductions, sold in August 2015 for $17 million. The buyer was Douglas Manchester, also an ex-publisher of The San Diego Union Tribune as well as other notable business ventures in San Diego. The listing agent was Greg Noonan of Berkshire Hathaway HomeServices. The buyer's agent was Andrew Nelson of Willis Allen Real Estate.

The next highest-priced sale in the county in 2015 was listed by Dane Soderberg of PS Platinum Properties at 6266 Camino De La Costa in La Jolla for $14.3 million. The home was originally designed by Frank Lloyd Wright protégé, Frederick Liebhardt, and remodeled by San Diego-based modernist, Henry Hester. The buyer's agent was Susana Corrigan of Berkshire Hathaway HomeServices.
"So far in 2016 the bulk of the sales activity has been in the sub $2 million market," Soderberg said. "The MLS data clearly shows that a property with singularity of style and a fair list price will attract offers, regardless of the price point."  
Soderberg said there have been a surprising number of sales above $4 million and a few above the $10 million price point. His experience on the sale of Camino De La Costa was one of finding the right buyer rather than a pricing issue and that "one should not rush to adjust the price downward without first exhausting marketing efforts."
The two highest-priced homes in San Diego County currently on the market are both in Del Mar. Brian Guiltinan of The Guiltinan Group has a listing at 929 Border Ave. on the north edge of Del Mar. The 5.6-acre property was built in 1937 and was once known as "Tippett Hall." It was purchased in 2000 for $25 million, $5 million more than the asking price. According to local reports, the interior of the home was gutted in 2001, but renovations were apparently never made. In 2007, the home was listed for $76 million presumably based on the potential value of the land, but no one stepped up to buy it. In May of 2014, it was listed for $33.9 million — didn't sell — and is currently offered at $49 million. Brian Guiltinan was not available for comment, so the current status of the property is not clear.
The next highest-priced property in the county, also in Del Mar, is at 2160 Balboa Ave. and is listed for just less than $25 million. Eric Iantorno of Pacific Sotheby's International Realty has the listing on the newly constructed, six-bedroom, eight-bathroom, ocean-view home.
Iantorno, a San Diego native who specializes in luxury properties, said the real estate market as a whole remains strong. He said in particular waterfront properties remain popular with global buyers and that the luxury home market is a popular place to park cash —"all cash offers come in daily."
He said that sellers that were holding out for higher values are being rewarded for their patience.
"Prices are going up thanks to a lack of inventory and historically low interest rates," Iantorno said. "Now is a great time to buy and sell real estate in San Diego."
Send luxury real estate items to sglidden@sdbj.com.