INDEPENDENT WORKERS AND INNOVATIVE TECHNOLOGY CHANGE THE LABOR LANDSCAPE WITH COWORKING SPACES
In Good Company
Originally published March 14, 2016 at 9:35 a.m., updated March 14, 2016 at 9:35 a.m.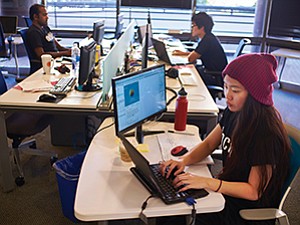 San Diego — Coworking has been one of the fastest-growing entrepreneurial trends of the last decade, and downtown San Diego is no exception.
In 2005, there were just a handful of coworking spaces across the country. Today, there are over 2,000. San Diego alone has dozens of these trendy office spaces, with a particular tech concentration downtown.
These shared work environments are modeled like gym memberships: members pay a monthly fee for a space to work or collaborate. The spaces are often used by "digital nomads" to connect with others on a regular basis — think freelance writers, graphic designers, programmers and app developers.
The office may simply be a large, open room where people work at couches or long tables. Increasingly, coworking spaces are also offering perks like education, supportive and collaborative services.
The rise in coworking spaces is driven both by attitudes of millennials and globalization in big business, says Felena Hanson, who leads the San Diego Coworking Alliance.
"Big companies like Qualcomm Inc. — who employ tens of thousands of employees — are finding that it's difficult to be nimble with such a large workforce," Hanson said. "And when you're competing on an international scale, you need to get that ship moving quickly."
Hanson said companies like Qualcomm have shifted toward contract-based workers as projects come and go.
Market research on the U.S. workforce revealed that 30 million people classify themselves as independent workers, either as full-time solo entrepreneurs, or part-time entrepreneurs who pick up work for extra income. That number is projected to grow to nearly 40 million by 2019.
A popular downtown coworking space in San Diego, Co-Merge, is reportedly closing down as the building's owner intends to lease the space to a single tenant.
However, CyberTECH, which operates four incubators downtown, is expanding and planning to absorb some of Co-Merge's members.

CyberTECH has 16,000 square feet of space (twice the size of Co-Merge) and is now the largest coworking space in the region, according to CyberTECH founder and chairman Darin Andersen.
"I think coworking and incubators are red hot right now, and we are aggressively expanding to meet an exploding market need," Andersen said.
CyberTECH's newest space, NEST, is one of at least nine other coworking spaces downtown.
STATS:
• 4,000 businesses
• 75,000 workers
• 90 startup companies
• 9 co-working and incubator spaces
WHAT'S LACKING?
Major employer or two to prompt development of grocers, big-box retail
SHARED SPACE
Prominent coworking spaces, incubators and accelerators :
CyberTECH (including CyberHive, iHive, xHive, and NEST)
1855 First Ave.
San Diego, CA 92101
DeskHub
2159 India St., 2nd Floor
San Diego, CA 92101
Fab Lab San Diego
847 14th St.,
San Diego, CA 92101
EvoNexus
101 W. Broadway #200
San Diego, CA 92101
PreFAB Space San Diego
789 W Harbor Drive, #252
San Diego, CA 92101
Nebular Incubator
1878 Main St., Unit E
Barrio Logan,
San Diego, CA 92113