Reflexion Health Makes Interim CEO Permanent
Sunday, March 13, 2016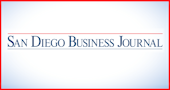 Local health tech guru Dr. Joe Smith has been appointed the permanent CEO of Reflexion Health, a digital health company in downtown San Diego.
Smith, who previously served as the founding chief medical and science officer at the West Health Institute, has been serving as interim CEO of Reflexion since December 2015.
The company recently secured clearance from the U.S. Food and Drug Administration for its Vera system, a tele-rehabilitation software platform that uses Microsoft's Kinect motion-tracking technology to coach patients through prescribed exercises. The system provides real-time performance feedback to patients and sends on aggregated performance data to the patients' physical therapists, according to a Reflexion news release.
The system is based on research conducted at the West Health Institute, which Reflexion Health spun out of as an independent company in 2012.
"Technological innovation allows us to reimagine health care delivery just as our country's aging demographic and ever-rising healthcare costs demand that we do so," said Smith in a statement. "Reflexion's first product, Vera, demonstrates the enormous opportunity to revolutionize rehabilitation medicine. Using avatar-driven instruction and 3-D imaging techniques, the guidance of a physical therapist can be brought directly into patients' homes, saving time, travel and money."
Smith joins Reflexion from the West Health Institute, a medical research organization established in 2009 by the Gary and Mary West Foundation. He has also served as president of the West Health Policy Center in Washington, D.C., and the manager of the West Health Investment Fund. At the West Health Institute, Smith spearheaded efforts in automated, coordinated, and connected health care, and medical device interoperability. West Health recently announced that it was steering away from its efforts in digital health, and zeroing in on healthy, "successful" aging.