PROPERTY: MEASURE A LOSS PROVIDES SOME LESSONS
Mall Defeat Doesn't Deter Lilac Hills
Originally published March 3, 2016 at 12:46 p.m., updated March 3, 2016 at 12:46 p.m.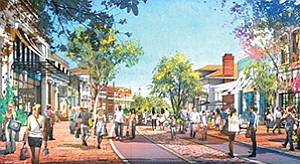 San Diego — Thanks in part to an unusually high turnout for an off-cycle special election, developer Caruso Affiliated was defeated at the polls in Carlsbad after attempting to bypass lengthy state environmental review rules and get its lagoon-adjacent retail center project directly approved by voters.
But a spokesman for another company proposing the controversial Lilac Hills Ranch residential project in North County — whose supporters are trying the same general route by targeting a countywide ballot measure for November — said the developer remains undeterred by the surprise thumping of the Carlsbad plan.
"This is not about a mall — it's abouthousing and meeting a need for housing in San Diego County," said Jeff Powers, spokesman for San Diego-based Accretive Investments Inc., led by developer Randy Goodson.
Supporters of Accretive's development, with 1,700 homes planned for a site near Valley Center, recently began the daunting task of collecting approximately 70,000 countywide voter signatures, the minimum needed to place the Lilac Hills Ranch project on the November 2016 ballot.
Goodson has acknowledged that the approach is similar to that taken in Carlsbad by developer Rick
Caruso, whose Los Angeles-based company sought to use laws that allow projects to bypass portions of required environmental review under the California Environmental Quality Act (CEQA), in cases where the project is presented to voters through an initiative process and approved by a government entity.
Lilac Hills, in various planning and public review stages for the past decade, has been approved by county planning agencies, but Goodson recently suspended the project's presentation before county supervisors while the developer deals with the implications of a recent state Supreme Court ruling calling for more stringent reporting of projects' statewide impacts on greenhouse gas emissions.
The developer said that ruling, unless it is revised, poses problems for his and other large projects throughout California, which has long had a shortage of affordable single-family housing.
Cautionary Tale
While the Carlsbad and Valley Center project components, locations and other factors are significantly different, experts contend that developers looking in the future to have projects approved at the ballot box may need to heed the Carlsbad situation as a cautionary tale.
Among the lessons, said local analyst Vince Vasquez, is that project supporters cannot underestimate the size of their opposition, and that outspending those opponents is not enough to win an election.
Also, it appears that the 12-week window — between the Carlsbad City Council's November decision to place the Caruso project on the ballot and the Feb. 23 vote on what became Measure A — was too little time to soothe residents' concerns over what exactly would be built and what impact it would have on the surrounding area.
For instance, while general concept drawings and maps were put out by the developer several weeks ahead of the election, exact project designs have yet to be completed for the proposed Nordstrom-anchored lifestyle center, slated for 26 acres on a larger 203-acre property adjacent to the Agua Hedionda Lagoon. Designs might indicate, for example, how the project would impact nearby residents' views of the lagoon and nearby ocean, and their access to those areas.
"The supporters of Measure A were never able to get out from under that cloud of uncertainty and unanswered questions," said Vasquez, senior policy analyst at National University System Institute for Policy Research in San Diego.
The proof was in the election results, which reflected an unusually high level of voter engagement. As of late afternoon Feb. 29, unofficial results from the county Registrar of Voters showed the No side had 20,362 votes (51.99 percent), and the Yes side had 18,806 votes (48.01 percent). Approximately 300 mail and provisional ballots remained to be counted.
According to National University, the unheard-of 63.5 percent voter turnout in Carlsbad beat by a wide margin the turnout for the San Diego mayoral special election of February 2014 (43.5 percent), the county turnout for the June 2014 gubernatorial primary election (27.2 percent), and the county turnout for the November 2014 gubernatorial general election (44.7 percent).
The last time any San Diego County special election turnout approached the Carlsbad result, researchers said, was the November 2005 statewide election. That's where voters soundly rejected eight state ballot measures — on subjects including public teacher tenure, government spending limits and redistricting — with a local turnout of 52.7 percent.
Looking at the Turnout
Vasquez said conventional wisdom, and California voting history, indicates that a special election will normally generate much smaller turnout than would be the case for general elections, especially those where governors or presidents are being selected.
But in the days prior to the Feb. 23 vote, there were indications that turnout would be high and results not favorable to Measure A. National University researchers found, for instance, that seniors 65 and older comprised about 40 percent of absentee ballots cast, even though they comprise just 31 percent of the eligible mail ballot electorate.
Seniors tend to be more skeptical of new development projects, Vasquez said, and that skepticism crossed political party lines in the Carlsbad vote. Pre-election research by National University also indicated that the project would get its highest opposition among all demographics in city precincts located closest to the lagoon project site, but that opposition was spread throughout the city.
It also appears that Measure A supporters did not benefit from their 10-to-1 advantage over opponents in pre-election campaign spending, after investing a reported $10 million in TV and other media advertising.
Locally based political campaign consultant John Nienstedt Sr. said the barrage of pre-election, pro-project advertising likely helped to spur the high turnout among both supporters and opponents, without changing the views of those inclined to oppose the development.
"Money successfully encouraged people to be interested in an election, but it didn't drive opinion," said Nienstedt, president and CEO of San Diego-based Competitive Edge, in a company blog post following the Carlsbad vote.
After Caruso himself issued a statement congratulating Measure A opponents on Feb. 29, a spokeswoman for Caruso Affiliated said the developer would be "taking a breath" to consider its options. The choices include resubmitting the lagoon-adjacent project — originally envisioned four years ago — for the standard environmental review process; or canceling its agreement with San Diego Gas & Electric Co. to purchase the land, which is contingent on the project getting approved.
Considering the emotional and political responses generated by several large development projects around the county in recent years, Vasquez, himself a Carlsbad resident, said even well-financed developers will be challenged to make their cases via the voting booth.
"To the extent that someone is going to try to bypass CEQA and do something at the ballot box, the threshold for convincing voters is going to be high," he said.