Sorrento Therapeutics, Yuhan Form Joint Venture Company
Wednesday, March 2, 2016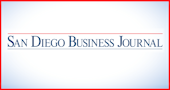 San Diego-based Sorrento Therapeutics and South Korean pharmaceutical company Yuhan are forming a joint venture, ImmuneOncia Therapeutics, to develop and commercialize potential anti-cancer treatments.
ImmuneOncia, to be headquartered in South Korea, will focus on immune checkpoint inhibitors against undisclosed targets in certain blood cancers and solid tumors.
Under the terms of the agreement, Yuhan will make an initial investment of $10 million and Sorrento will grant ImmuneOncia an exclusive license to one of its immune checkpoint antibodies for selected territories while retaining the rights in the U.S., Europe and Japan. The joint venture will also have global rights to two additional antibodies that will be selected by ImmuneOncia from Sorrento's portfolio.
Yuhan will have majority ownership at 51 percent of ImmuneOncia, while Sorrento will own 49 percent. Yuhan Chief Scientific Officer Dr. Su Youn Nam will lead the venture as CEO.
The first of the three immune checkpoint antibodies should enter clinical trials in 2017.
Financial details of the agreement were not disclosed.