Pinnacle International Buys Downtown Site for $10.9 Million
Wednesday, March 2, 2016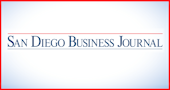 Pinnacle International Lands LLC of Vancouver, B.C., has purchased a downtown San Diego land parcel, previously entitled for a 22-story apartment and condo project, for $10.9 million, according to brokerage company Cushman & Wakefield.
The seller of the 30,000-square-foot property, located at 11th Avenue, A and B streets, was a partnership that included San Francisco-based Pacific Heights Development LLC, led by MB Property Acquisitions President Michael Blumenthal, and Tokyo-based developer Tama Home America.
The buyer was represented by Cushman & Wakefield's Tim Winslow, Jason Kimmel and Kevin Nolen
According to Civic San Diego, Blumenthal's company in 2013 submitted plans to the city for a mixed-use tower, with the project name Pacific Heights, which was proposed at that time to include 279 residential units –since revised to 284 – along with 8,400 square feet of retail/commercial space and 295 parking spaces in four levels of subterranean parking.
Blumenthal has developed several residential condo projects in downtown San Diego, including the 230-unit Palermo, 263-unit Union Square and 179-unit Alta.
Developer Pinnacle International's recent local projects include downtown's tallest apartment property, the 484-unit Pinnacle on the Park in East Village. It was completed and opened in 2015 and is the first of two 45-story towers planned for that location.