Grandpoint Division to Offer 'First of Its Kind' Cyber Crime Insurance
Sunday, June 26, 2016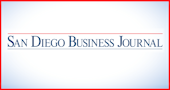 Grandpoint Bank, parent of La Jolla-based Regents Bank, has created a new division to address growing concerns about cybercrime within the banking industry.
Regents, which operates four banks in San Diego and one in Vancouver, joined Grandpoint in 2013. Its parent company, which operates banks in California, Arizona and Washington, recently announced the creation of Grandpoint Insurance Services Inc., a nonbank insurance agency affiliate.
Business clients, through the new affiliate, will have access to a "first of its kind" Client Cyber Crime Insurance policy, geared to protect against monetary losses as a result of cybercrime, according to a statement from Grandpoint.
"The policy focuses on the kinds of coverage that directly address the key fraud risks that businesses face – losses to their bank accounts through cybercrime," said Petra Griffith, director of product development for Grandpoint, in the statement. "Cybercrime is a major concern for businesses, especially since they are typically liable if cyber criminals steal funds from their business accounts. They often don't have the appropriate insurance in place and are finding it more difficult to protect themselves in this ever evolving, increasingly sophisticated cybercrime environment."
According to the statement, the policy is intended as an "affordable and easy" alternative to individually underwritten commercial crime insurance policies. Premiums will start at $30 per month. The policy is underwritten by Hiscox Inc.
"We've been working for over a year to create a more powerful solution to help clients protect their financial assets against attacks by cyber criminals," Griffith said.
Other Grandpoint divisions whose clients will have access to the policy include Bank of Tucson and the Biltmore Bank of Arizona.
Since 2013, more than 17,000 companies have lost more than $2.3 billion to one cybercrime alone, the business email scam, according to the FBI.