Google to Open Office in Sorrento Mesa
Friday, June 24, 2016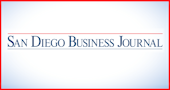 Google plans to open an office in the tech-heavy San Diego neighborhood of Sorrento Mesa.
It will be Google's first office in San Diego.
A Google spokesman confirmed that the corporation will be a tenant at 6420 Sequence Drive, but declined comment on the company's plans for the office.
Google is synonymous with search and internet advertising, but the Silicon Valley business has many other software and technology projects.
CoStar Group reported that Google signed a lease on March 1 for about 55,000 square feet. The lease has an Oct. 1 start date. It covers space on the first floor and the fourth (topmost) floor.
The length of the lease was not available. Asking rents for the same quality building in the submarket were $2.61 per square foot, according to CoStar.
For months there had been rumors in the real estate community that a large technology player was looking for space in San Diego.
Google, based in Mountain View, is part of Alphabet Inc. (Nasdaq: GOOG). The company reported revenue of $75 billion in 2015, up from $66 billion in 2014.