TOURISM: PROJECTS AIM TO DRAW NEW, RETURNING VISITORS
Parks Keep Thinking About Tomorrow
Originally published June 23, 2016 at 12:39 p.m., updated June 23, 2016 at 12:39 p.m.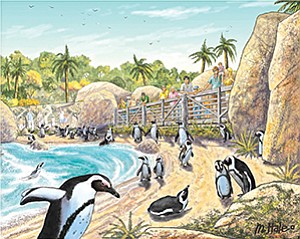 San Diego — A 2013 study by the National University System Institute for Policy Research estimated that San Diego County has an average of 114,000 visitors on a typical summer day — 45 percent higher than the number taking in theme parks, beaches and other attractions outside of that season.
Operators of the region's three major theme parks — San Diego Zoo, SeaWorld San Diego and Legoland California Resort — plan to continue capitalizing this summer on that peak traffic, and a generally tourism-friendly economy, with a slew of new program and event offerings.
An even bigger capital investment in planned permanent attractions is underway, continuing a multimillion-dollar wave of new elements added at all three of those venues, along with the San Diego Zoo Safari Park near Escondido, during the past five years.
Among the biggest current projects is San Diego Zoo's $70 million, member-funded expansion and reconfiguration of its Africa Rocks habitat, among the zoo's largest exhibit projects of the past several years. Construction began a year ago and is expected to conclude by early summer of 2017.
When completed, Africa Rocks will have a series of new plazas along with new viewing areas showcasing animals from throughout the African continent, including baboons, crocodiles and penguins.
Also currently underway is an extensive renovation of the zoo's Wegeforth Bowl stadium, built in the 1940s and named for original zoo founder Harry Wegeforth, slated to be completed this year as part of the Balboa Park facility's 2016 centennial-year celebrations.
Ted Molter, chief marketing officer of the nonprofit San Diego Zoo Global, which operates the flagship zoo along with the Safari Park, said that after Africa Rocks is completed, the 100-acre zoo will have essentially been half-rebuilt over the past five decades.
The updates have been backed by a steady stream of visitors in recent years, generally holding at around 5 million — about 3.5 million for the main zoo and 1.5 million for the Safari Park. Molter said he expects the zoo to at least match that historic performance this year, though there could be extra traffic through the gates generated by the zoo's centennial.
For instance, the San Diego History Center and four other museums at Balboa Park are running their own exhibits through the rest of the year, focused on the zoo's 100-year history.
Molter said the zoo has also made improvements geared to its 2,000 peak-season employees as well as customers. The zoo last year completed $18 million in infrastructure upgrades, including a new employee parking facility that freed up 600 spaces for the general public in the zoo's main parking lot.
"It really helps a lot more people get into the zoo more quickly without having to search for parking, and with less stress to start their visit," Molter said.
SeaWorld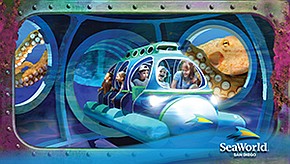 At SeaWorld San Diego, operators continue to add permanent attractions, following past years' additions including the Manta roller coaster. Upcoming revisions to performance shows and other offerings also reflect efforts by its parent company — Florida-based SeaWorld Entertainment Inc., operator of 11 U.S. theme parks — to address revenue and attendance struggles stemming from controversy over its killer whales.
A recent attendance report by the Themed Entertainment Association, an industry trade group, noted that SeaWorld San Diego ranked 14th among North American theme parks in 2015, but was the only venue among the top 20 to see attendance decline — dropping 7 percent from the prior year, to just over 3.5 million visitors.
In its own filing with the city of San Diego, the Mission Bay park reported 2015 attendance of just over 3.6 million, down 4 percent from 2014.
To bolster performance, SeaWorld San Diego's new projects include a new section called Ocean Explorer, with construction set to begin later this year and with costs not disclosed by SeaWorld. Planned elements, set to debut in 2017, include multiple aquariums, rides, digital technologies and other interactive features simulating a scientific expedition.
SeaWorld San Diego in recent years has employed more than 3,000 during peak seasons. Spokesman Dave Koontz said the venue in 2016 is emphasizing multiple seasonal special events that run throughout the year, including a food festival, fireworks and musical performance shows. In 2017, it will debut its new Orca Encounter, featuring the whales in a non-performing role.
SeaWorld is also in early discussions with San Diego's Evans Hotels on a potential new resort hotel at the Mission Bay site, though neither party has released details since announcing the partnership in November 2015.
In exploring a hotel component, SeaWorld is aiming to emulate the success of on-site hotels long operated by competitors including the Walt Disney Co., and more recently at non-Disney venues such as Legoland California Resort in Carlsbad.
Legoland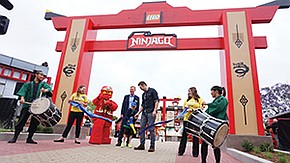 Earlier this year, Legoland reiterated its previously announced plans to build a second hotel at the Carlsbad venue, joining a 250-room Lego-themed hotel that opened there in 2013.
Legoland California spokeswoman Julie Estrada said operators have applied with the city's planning department to build a three-story, 250-room castle-themed hotel with a restaurant and gift shop. It would be built within a parking lot west of the current Legoland hotel and the park's main entrance, with a tentative opening by 2018 pending necessary approvals.
In 2016 alone, Legoland California has launched its new Ninjago World, featuring a high-tech ride and other elements based on a popular toy line and cartoon series. It also debuted a new adventure attraction based on "The Lego Movie," and hotel rooms with designs emulating its girl-friendly Lego Friends attraction.
On July 1, Estrada said the park will unveil a new and improved Miniland New York, featuring a replica of the new One World Trade Center built with more than 100,000 Lego bricks and standing 26 feet tall.
Legoland's parent company, U.K.-based Merlin Entertainments Group, does not break out attendance or other performance figures for its global attractions, which include 10 Legoland parks. The Carlsbad venue is known within the industry to consistently draw around 1.6 million visitors annually, employing approximately 1,600 during peak seasons.
Merlin Entertainments recently unveiled plans for what will be the third U.S. Legoland resort — reportedly to cost around $250 million — proposed for a site in southern New York state and slated to feature elements similar to those in Carlsbad and Winter Haven, Fla.