Cox Offering Free WiFi Downtown During July Events
Tuesday, June 21, 2016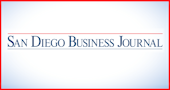 The local regional office of Cox Communications announced that it is partnering with the City of San Diego to open Cox WiFi hotspots free to the public from July 8 to 24 in downtown San Diego.
Cox and city officials said residents and tourists will have free and unlimited access to the hotspots throughout downtown. That period coincides with two major events coming to downtown – Major League Baseball's All-Star Game on July 12 at Petco Park; and Comic-Con International July 21-24 at San Diego Convention Center.
A Cox spokeswoman said financial details on the partnership were not immediately being disclosed. Free hotspot service will be available in downtown neighborhoods including the Gaslamp Quarter, East Village and Little Italy, with access information at cox.com/wifi.
Sam Attisha, vice president of business development and public affairs for Cox Communications, said the company has made a "huge investment" in building out wifi hotspots throughout San Diego County and other U.S. regions. Its recent local offerings include the rollout of residential services with gigabit internet speeds.