Charity Gala Gives At-Risk Kids the Support Needed to Succeed
Originally published June 20, 2016 at 8:11 a.m., updated June 20, 2016 at 8:12 a.m.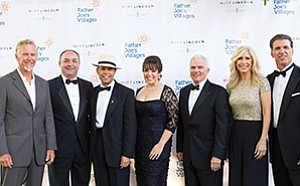 San Diego — More than 300 supporters gathered at the Inn at Rancho Santa Fe for Father Joe's Villages' 2016 Children's Charity Gala. Guests raised more than $300,000 in funds for at-risk youth in San Diego, including Toussaint Academy and the Therapeutic Childcare Center. Two local champions were recognized for their work in empowering homeless youth. Danny Martinez received the Father Joe's Villages Award for his volunteer efforts at Father Joe's Villages and for work at his own nonprofit, Gremlin's Kids, an Athletes for Education Program. The Pierre Toussaint Award went to the Navarra family, owners of Jerome's Furniture, for supporting Father Joe's Villages by donating hundreds of mattresses to children and families in need.
• • •
Ballington Academy for the Arts and Sciences in El Centro received a check for $46,196 from state Sen. Ben Hueso, representative of the 40th District. The donation was funded by Senate Bill 740, the Charter School Facility Grant Program. In addition, Hueso made a personal contribution of a piano valued at approximately $3,000. The school's innovative curriculum is made possible through Volunteers of America Community and Education Corp. The current check, part of ongoing funding, will be used for facility maintenance, including building upkeep.
• • •
Takeda California, the La Jolla-based U.S. subsidiary of Takeda Pharmaceutical Co., hosted its seventh annual "Tour de Takeda" bike ride and walkathon to give back to the community by supporting four local nonprofits. Takeda California employees and their families raised more than $13,000 by completing 2,650 miles. Takeda donated $5 for every mile covered by employees, friends and family. Proceeds from the event benefitted: Volunteers in Medicine of San Diego, Greater San Diego Science and Engineering Fair, Elementary Institute of Science and Southwest Middle School STEAM Program.
• • •
General Dynamics NASSCO hosted its second annual NASSCO neighborhood clean-up in Barrio Logan.
"We have been a proud member of the Barrio Logan and greater Logan Heights community for many decades and it is very important that as stewards of this community, we do our part," said Dennis DuBard, manager for public and government affairs for General Dynamics NASSCO. Community partners included volunteers from Our Lady of Guadalupe Parish, Burger King on 28th Street, BAME Community Development Corp., Donut Bar, and servicemen and women from Naval Base San Diego.
NASSCO has received multiple awards for its environmental contributions: San Diego Recycler of the Year Award, USCG Award for Environmental Excellence, SDG&E Energy Champions Award for Manufacturing and the Governor's Environmental and Economic Leadership Award.
• • •
San Diego County Albertsons and Vons supermarkets partnered with The Jacobs & Cushman San Diego Food Bank to help fill its shelves this summer through the "School's Out, Hunger's Not" Summer Food Drive sponsored by SDG&E and the Sycuan Band of the Kumeyaay Nation.
During the summer months, food drive donations to the San Diego Food Bank drop dramatically. Yet, demand for food assistance soars with thousands of low-income school children no longer receiving free or reduced-priced school meals.
"The San Diego Food Bank is instrumental to helping combat the fight against hunger in San Diego's various communities," said Mitch Mitchell, vice president of state governmental affairs and external affairs for SDG&E. "Supporting the School's Out, Hunger's Not initiative is a natural extension of SDG&E's community mission and commitment to caring for our neighbors."
Lori Raya, southern California division president for Albertsons and Vons, said typically the focus of food drives is during the holidays, but the Food Bank "needs food 365 days a year."
Jim Floros, president and CEO of The Jacobs & Cushman San Diego Food Bank, said because the need is year round they have set up a virtual food drive on its website.
"Those wishing to give can simply select the food items they wish to donate and pay securely using a credit card," Floros said. Visit sandiegofoodbank.org.
Send Kudos/Giving items to sglidden@sdbj.com.