Survey Ranks Sorrento Valley Fifth for Raising Venture Captial
Friday, June 17, 2016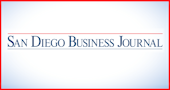 Twenty neighborhoods in the U.S. account for more than $10 billion in venture capital — and one of them is in San Diego, according to a report released this week.
Using ZIP code-level data to drill down past city or regional assessments, researchers at the Martin Prosperity Institute in Toronto pinpointed the nation's hot spots for startup activity and investment, which are concentrated in what the researchers call "distinct microclusters."
The University of California, San Diego-adjacent neighborhood of Sorrento Valley appears at No. 5 on the list, having attracted more than half a billion in venture capital; more venture investment than any other U.S. city outside of the Bay Area.
Richard Florida and Karen King, colleagues at the Martin Prosperity Institute, a research center within the University of Toronto's Rotman School of Management, published the report. They used "detailed data" from Thomson Reuters' on such investments from 2013 for the analysis.
The report revealed that Sorrento Valley, led by its biotech, medical device and equipment and software sectors, took in $568 million in venture investment.
Biotech money made up the bulk of the venture investment coming into Sorrento Valley, the report states. The neighborhood's $310 million in biotech-related venture investment is topped in the U.S. only by South San Francisco, which has pulled in $474 million, the report states.
The 92121 is home to biotech firms such as Hologic, a developer, manufacturer and supplier of diagnostic products, medical imaging systems and surgical products, Vical Inc., which makes biopharmaceutical products for the prevention and treatment of serious or life-threatening diseases, and Halozyme Theraputics Inc., which is focused on developing and commercializing novel oncology therapies.
Fourteen of the top 20 neighborhoods ranked by venture capital investment are in the San Francisco Bay Area, specifically within the cities of San Francisco and San Jose, according to the report.
Topping the list were two San Francisco neighborhoods - South of Market/Mission District and Rincon Hill — that have each attracted more than $1 billion in venture investment.
San Diego's Sorrento Valley and the Boston-area neighborhood of Waltham were the only areas outside of the Bay Area to crack the top 10.
Other neighborhoods outside of the Bay Area that made the top 20 were in Cambridge, close to MIT, in New York City, close to NYU, and in Dallas.
The report also broke down venture investment by industry sector.
More than half of all biotech-related venture investment, or about $3 billion, has been pumped into the top 20 neighborhoods, the researchers found.
Neighborhoods with a strong biotech sector, like Sorrento Valley, are often near universities or research centers, researchers concluded, setting it apart from other venture capital, which appears to be shifting back to urban areas, the data show.