Corporate Directors Forum Appoints 3 New Board Members
Tuesday, June 14, 2016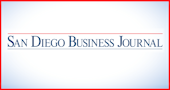 The Corporate Directors Forum, a San Diego nonprofit providing corporate governance education, has appointed Jim Edwards, Justin Bird and Phil Rudolph, three corporate lawyers and governance experts, to its board of directors, the organization announced.
Edwards is senior vice president, general counsel and secretary of Cubic Corp. He helped establish and served as president of the San Diego Chapter of the Association of Corporate Counsel; he also served on the association's national board. Edwards graduated from the University of San Diego School of Law, according to CDF.
Bird directs Sempra Energy's ethics and compliance programs worldwide as vice president of Compliance and Governance and corporate secretary. Bird's previous roles at Sempra include being director of project finance, as well as company, senior and principal counsel. Bird holds a law degree from the University of Pennsylvania.
Rudolph has served as the executive vice president, chief legal and risk officer, and secretary at Jack in the Box Inc. since 2007. Rudolph came to Jack in the Box from Ethical Leadership Group, a Chicago-based consultancy where he was vice president and general counsel. He received his law degree from the University of Chicago Law School.
"We're excited about the diverse range of corporate legal experience Mr. Edwards, Mr. Bird and Mr. Rudolph bring to Corporate Directors Forum," said John Skousen, incoming Chair of the Corporate Directors Forum and chief compliance officer for Qualcomm Inc.
Returning directors include: Chair John Skousen, Vice-Chair & Programs Chair Scott Stanton, Secretary Bruce Doyle III, Treasurer Dan Schreiber, Immediate Past Chair Julia Brown, Membership Committee Chair Adrian Atilano, 2016 Director of the Year Co-Chairs Jack Yelverton and Beth Altman, and Education Committee Chair Mike Berthelot.
Directors at large include: Annalisa Barrett, Cass Cassidy, Christina de Vaca, David Down, Steve Ferruolo, Lesley Howe, Michael McCloskey, John Niedernhofer, Jan Patterson, David Pendarvis, Donald Rosenberg, Lloyd Rowland, David Salisbury, Kathleen Scott, Judy Thompson, Ken Wechsler and Scott Wolfe.