Connect Invites Early Stage Tech Cos. to Apply for Coming Phase of Investment Program
Sunday, June 12, 2016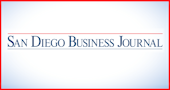 San Diego's early-stage technology companies are invited to apply for Connect's upcoming CapitalMatch, a program designed to link companies seeking funding with interested investors.
Connect, founded in 1985, is a startup accelerator that has helped thousands of startups since its beginnings as a department of UC San Diego, later spun out.
The trade organization's CapitalMatch events focus alternately on startup companies in the tech and life sciences sectors; the upcoming intake panel on June 29, to which six of the companies that apply will be invited, is for tech firms only.
Companies raising capital have until June 20 to apply for a spot at the next CapitalMatch event by filling out an application, available at connect.org. Those who apply must submit an executive summary, investor deck and a 90-second video of a company founder or CEO describing what the company does.
CapitalMatch events, which are closed to the public, are held about once every two months as part of Connect's efforts to link vetted San Diego companies in the life science and technology sectors with qualified investors.
Connect Invites Tech Startups to Apply for Coming Phase of CapitalMatch Program