Northrop Grumman Awarded $62.4 Million, One-Year Navy Contract
Wednesday, June 8, 2016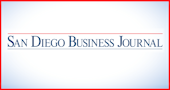 The U.S. Navy awarded Northrop Grumman Corp. a $62.4 million, one-year contract option to operate and maintain its Broad Area Maritime Surveillance-Demonstrator aircraft, which are seagoing versions of Northrop Grumman's Global Hawk spy aircraft.
The Pentagon announced the deal on June 2. It is funding the contract out of its war fighting budget (called overseas contingency operations in Pentagon language).
The contract option covers logistics support, organization, intermediate and depot-level maintenance, as well as field services representatives to ensure that the aircraft are ready for intelligence, surveillance and reconnaissance missions.
The BAMS-D program is based in Rancho Bernardo, though the bulk of the work awarded June 2 will be done in Patuxent River, Md., near Washington, D.C. One quarter of the work will be done in unspecified forward operating bases.
The Navy plans to follow the BAMS-D program by ordering very similar aircraft called Triton.
The Naval Air Systems Command in Patuxent River awarded the contract.