Sorrento Therapeutics Signs Deal with Chinese Pharmaceutical Co.
Tuesday, June 7, 2016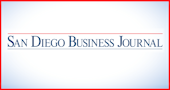 Sorrento Therapeutics Inc., a local biopharmaceutical company, has inked a deal with China-based Shenyang Sunshine Pharmaceutical Co. (3SBio) to develop and commercialize immunotherapies.
As part of the deal, Sorrento's subsidiary, TNK Therapeutics Inc., is granting an exclusive license to three of its technologies to the Greater China market. The Greater China market includes mainland China, Hong Kong, and Macau.
Under the terms of the joint venture agreement, 3SBio will contribute $10 million to the joint venture and TNK will grant the licenses. 3SBio will initially own 51 percent of the joint venture while TNK will hold the remaining 49 percent.
"We are pleased that 3SBio, a leading biotechnology company in China, has recognized the value of our CAR-T technologies and we look forward to working with them to advance the development of our novel anti-cancer cellular therapies," said Henry Ji, president and CEO of Sorrento.
Sorrento Therapeutics (Nasdaq: SRNE), a public company in San Diego with a market cap of $273 million, landed a similar deal earlier this year. In March, the company formed a joint venture with a South Korean pharmaceutical company named Yuhan to form ImmuneOncia Therapeutics. In that deal, Yuhan committed $10 million while Sorrento committed an exclusive license to one of its immune checkpoint antibodies to be used in undisclosed targets in certain blood cancers and solid tumors.