ViaSat to Provide Wi-Fi on American's Boeing 737 MAX Fleet
Sunday, June 5, 2016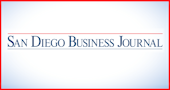 Carlsbad-based ViaSat Inc. said on June 3 that it will provide in-flight Wi-Fi systems on new aircraft going into service for American Airlines.
The systems on the Boeing 737 MAX aircraft will connect to the internet through ViaSat's satellite network. American Airlines has 100 of the aircraft on order, according to the Fort Worth Star-Telegram. American is based in Fort Worth.
Financial terms of the deal were not announced. The first Boeing 737 MAX with a ViaSat in-flight system aboard is scheduled to go into service in September 2017.
The stock market took an interest in ViaSat in February after news went public about American (Nasdaq: AAL) possibly leaving its current Wi-Fi provider, Chicago-based Gogo LLC (Nasdaq: GOGO).
It appears that Gogo is also getting new business. Published reports on June 3 said American agreed to let Gogo upgrade 134 existing Airbus A319 and A320 jets with Gogo's next-generation 2ku Wi-Fi system.
A Gogo securities filing from June 3 says American has a new agreement with Gogo but that American has the option to de-install Gogo service on 550 of its aircraft.
ViaSat shares were up more than 4 percent in afternoon trading, to $72.87, on June 3 — a day when the overall stock market was down slightly.
Shares of Gogo were down 15 percent.
"Our satellite bandwidth enables an 'at home' internet experience that can serve everyone on the plane — and empowers innovative business models for airlines and their passengers," Mark Dankberg, ViaSat's CEO, said in a statement distributed by the company.
"We are delighted and honored to have the opportunity to work with American Airlines and help fulfill their goal of delivering the best in-flight Wi-Fi experience throughout their fleet. We believe we are now approaching the end of an era where passengers have paid very high prices for very slow connections. Our agreement highlights a significant initial step for American to deliver an onboard Wi-Fi experience every passenger will want to use."