Local Hotel Revenue Rose 3% in First Four Months of 2016
Friday, June 3, 2016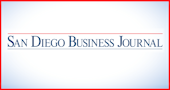 San Diego County hotels saw total revenue rise 3 percent from the year-ago period for the first four months of 2016, topping $812.3 million, according to the latest monthly data from research firm STR.
Occupancy in the January-to-April period was down 0.7 percent from a year ago, at 75.7 percent, with the average daily room rate rising 2.1 percent, to $146.73. The region's revenue per available room (RevPar) increased 1.5 percent, reaching $111.02.
The local region generally tracked ahead of national figures on key metrics for the four-month period of 2016. STR reported that the U.S. hotel occupancy rate was 62.5 percent (up 0.2 percent), the average daily room rate was $121.66 (up 3.1 percent), and RevPar was $76.08 (up 3.3 percent).