Firm's Lean Business Model Has Room for Solid Additions
Originally published June 2, 2016 at 3:13 p.m., updated June 2, 2016 at 3:13 p.m.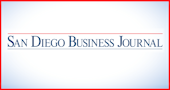 San Diego — Crosbie Gliner Schiffman Southard & Swanson LLP (CGS3) recently hired two exceptional local real estate partners — David Swartz, former general counsel of Arden Realty Inc., and Dawn Saunders, previously with Mintz Levin — to the ranks of this three-year-old, growing commercial real estate law firm. You might remember reading here that CGS3 wants to build a new type of law firm as an alternative to the "Big Law" business-as-usual model with its high overhead, high hourly rate and lots of associate billing.
Over a 20-year legal career, Saunders has concentrated her practice on complex commercial leasing with a focus on technology and biotechnology/life science companies, as well as laboratory and manufacturing facilities. She also has extensive experience with the acquisition/disposition of commercial real estate.
With 25 years of legal experience, Swartz has a background that includes corporate M&A, real estate acquisitions and dispositions, financing, leasing, risk management and litigation. He was most recently with Elkins Kalt and brings with him a diverse client base of institutional and emerging clients in hotel, multifamily, commercial, retail and industrial properties.
Swartz and Saunders bring the total attorney headcount of CGS3 to 17 plus five paralegals.
• • •
Susan Swan has opened Swan Employment Law. Swan represents employees who are harassed, discriminated or retaliated against at work, or are not paid all of the money they have earned. She also reviews and negotiates employment contracts and severance agreements, and represents employees in unemployment hearings and appeals. Swan was previously an associate at Gruenberg Law. She is in her second year on the board of directors of the Lawyers Club of San Diego. The San Diego County native also swam in the Malibu Triathlon at Zuma Beach three times, and swam faster than Jennifer Lopez. How is that for competitive?
• • •
Higgs Fletcher & Mack has hired Doug Kerner as its newest partner in its real estate practice. Kerner's expertise is in commercial real estate transactions and finance for a wide array of clients, including owners and developers of commercial, residential and mixed-use properties, as well as landlords, tenants and financial institutions.
Kerner comes to the firm from Buchanan Ingersoll & Rooney LLP where he handled a variety of commercial real estate transactions, including purchase and sale, leasing and finance matters. He has represented institutional lenders in structuring, negotiating and documenting a wide range of commercial real estate loans in single-bank and syndicated transactions. Prior to his time with Buchanan Ingersoll, he was at Alhadeff & Solar LLP, where his practice focused primarily on land use and environmental law, and related litigation representing both public agencies and private developers.
• • •
More Higgs news. Peter Doody, Higgs personal injury defense attorney, was appointed secretary-treasurer of the Association of Southern California Defense Counsel (ASCDC). Doody will help lead the 900-member association, founded in 1960, and assist in organizing and promoting educational seminars.
• • •
It's never too early to buy your tickets for the San Diego Volunteer Lawyer's Justice for All Celebration. This year it's Sept. 22 and will be held at the San Diego Natural History Museum in Balboa Park. As most of you know, since 1983, San Diego Volunteer Lawyer Program has helped extend access to justice to some of the most needy and deserving of our community. From helping domestic violence victims to foster children with disabilities, SDVLP provides a host of pro bono legal services with the assistance of volunteer lawyers, law students, and other legal professionals. This year's sponsors include:
Platinum, DLA Piper; Gold, Fish & Richardson, Norton Rose Fulbright and Procopio; Silver, Paul Hastings; Bronze, Tim Cohelan and Laura Buxton, Jeffrey and Johanna Isaacs, Klinedinst, Sandler, Lasry, Laube, Byer & Valdez LLP, and Kramm Reporting; and Friend, California Western School of Law, Consumer Attorneys of San Diego, Legal Staff of San Diego, Dinsmore, University of San Diego School of Law, and Duane Morris.
Not too late for you to sponsor. Contact Cheryl Martinez at (619) 235-5656 ext. 110 or camartinez@sdvlp.org
• • •
Fish & Richardson has announced the addition of 38 associates across the firm's 12 offices. Joining the Southern California office, based in San Diego, are Crystal Culhane, Veronica Sandoval, Jared Smith and Nicole Williams.
Culhane focuses her practice on patent prosecution work in the areas of chemistry, pharmaceuticals, and biotechnology, as well as patent litigation matters. Prior to joining Fish, she was an associate at a general practice law firm where she handled patent prosecution matters and also assisted in Hatch-Waxman litigation matters.
Sandoval previously served as a judicial extern to the Honorable Charles K. Wiggins of the Washington Supreme Court and as an extern at the U.S. Patent and Trademark Office. Prior to her legal career, Sandoval was a medical liaison for two pharmaceutical companies and an adjunct professor at the University of Utah in the Department of Pharmacology & Toxicology.
Smith previously was a senior systems engineer on classified projects for Raytheon and Northrop Grumman. He is admitted to practice in California, the U.S. Court of Appeals for the Ninth Circuit, the U.S. Court of Appeals for the Federal Circuit, the U.S. District Courts for the Central, Northern and Southern Districts of California, and before the U.S. Patent and Trademark Office.
Williams focuses her practice on patent litigation and has experience with various technologies, including DNA sequencing and stem cell technology. Previously, she served as a judicial extern for the Honorable Sharon Johnson Coleman of the U.S. District Court for the Northern District of Illinois.
Randy Frisch is vice chancellor of business administration at National University and a former publisher of the San Diego Business Journal. He is licensed to practice law in California, Nevada and Idaho. He can be reached at rcfrisch@msn.com.