BIZ: ENTREPRENEURIAL SPIRIT LETS LOOSE IN UNUSUAL BIZ EVENT
Bold, Brash and a Bash: Welcome to Startup Week
Originally published June 2, 2016 at 2:20 p.m., updated June 2, 2016 at 2:20 p.m.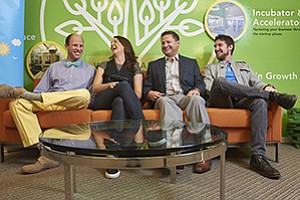 San Diego — Thousands of aspiring, neophyte and seasoned entrepreneurs will head downtown next week for the city's biggest — and most popular — startup event: San Diego Startup Week.
A testament to the region's maturing startup community, the event is expected to attract upwards of 3,000 attendees, doubling last year's turnout of 1,500. That's in stark contrast to San Diego's first Startup Week in 2012, which attracted only a couple hundred people.
There's a reason for the event's growth. Startup Week is a fun amalgam of startup culture, sexy tech, and useful lessons from near-celebrity-status executives. In fact, the event is a millennial socialite's dream. Some elements more closely resemble a block party than a business conference.
That's because founders Tim Ryan, Melani Gordon, and Austin Neudecker know that startups like to play as hard as they work.
"In traditional business, there's a separation between life and work. You do your business, and then you go home," said Neal Bloom, a lead organizer for San Diego Startup Week.
"But for entrepreneurs, your business is your life. You're in the trenches 24 hours a day, 7 days a week. But there's fun to be had doing business, and San Diego business culture in particular is fun."
And it's true that there's something inherently festival-worthy about San Diego's growing business sectors. For crowds, drones awe; science and tech fascinate; and craft beer spices up the night.
Series A (Admission)
The event, which is put on by the organization Startup San Diego, spans five days and costs $50 for the week ($75 at the door and $25 for students).
The low-priced tickets, inexpensive to attract broke and beginning entrepreneurs, hardly reflect the event's magnitude. Startup Week costs hundreds of thousands of dollars to organize, Bloom said, not to mention the multitude of donated time and equipment.
Bloom, who is in charge of sponsorships and partnerships for the event, has landed major corporate sponsors this year to cover the costs. The list includes multibillion-dollar firms Qualcomm Inc. and Cisco Systems Inc., which have a vested interest in getting plugged in to the startup community.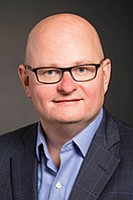 "We really want to discover and engage with these startups," said Alex Goryachev, director of innovation strategy & programs at Cisco. "To us, it's a no-brainer. We want to hear from startups, see what ideas they have, and if we can partner with them."
Cisco has done just that in recent years. In 2014, it partnered with startup incubator EvoNexus to launch a joint incubation program called Cisco Entrepreneurs in Residence (CiscoEIR). In 2015, the company acquired Carlsbad startup MaintenanceNet for $139 million.
"We truly believe that we have a lot to learn from startups, and they have a lot to learn from Cisco," Goryachev said.
Sharing the Intellectual Property
Cisco and others should have a heyday with the breadth of ideas covered at this year's Startup Week. The event is loaded with over 100 talks and presentations along with plenty of opportunity for networking, food and beer. "I think people could make their ticket money back by free food and beer alone," said Bloom, laughing.
The week of startup revelry launches with a keynote "state of the startups" address by Mayor Kevin Faulconer.
"San Diego is a city of innovation and limitless opportunities," Faulconer said in an email. "Much of that innovation and many of those opportunities come directly from the ingenuity and creativity that exists within our city's small businesses and startups. Through a collaborative city, civic and business effort, the world is starting to recognize much of this innovation and I'm proud to promote it and build on it through events like Startup Week San Diego."
Organizers of the event managed to pack 10 industry or goal-specific "tracks" into the week, each happening simultaneously. The event has content, classes and talks for every phase of growth, from the idea stage to the growth stage. Topics range from the super-specific ("licensing intellectual property from research institutions") to the almost-comical ("enterprise sales with a small team, no budget, and an unproven product").
There's industry-specific tracks to keep attendees focused on what matters most to them — tracks for web and software developers, cybersecurity, and design, for example. There's also the newly added binational, biotech and "brew tech" tracks (yes, brew tech is for craft brewers).
"A lot of other industries around town are maturing just as much as tech is," Bloom said. "Beer has been a major industry in San Diego for years now."
Organizers for the event have landed several bigwigs to speak throughout the week, including StockTwits CEO Howard Lindzon and the well-known Los Angeles venture capitalist Mark Suster of Upfront Ventures. Some local startup pros are also holding talks, including Chief Technology Officer Ashley van Zeeland from Human Longevity and Amy Zebrowski, who does human resources and recruitment for Underground Elephant.
Startup Week also features a multiday "idea competition" that culminates in a Thursday night "pitch off" in front of investor-judges, and a "fireside chat" with Tech Coast Angels. And we haven't even gotten to the fun part.
Office Party
Each night of the event ends in a social gathering, including a "startup crawl" in which attendees get to tour the inside of top startups in downtown San Diego. A play on the classic "pub crawl" (in which attendees hop from one bar to the next in one long night), the startup crawl stops at trendy startup offices stocked with craft beer, food, and plenty of conversation.
"It's fun to see the environment where others are working," Bloom said. "And it's good for the startups who are hosting — to pitch their brand or for talent recruitment. They can say, 'Come have a beer in our office and see our culture, identity, and meet our founders.'"
Stops on the startup crawl include Underground Elephant's new downtown digs, Darin Anderson's co-working space CyberHive and The Control Group's new Little Italy office.
Bloom said the growing popularity of Startup Week makes a lot of sense. Besides the time and work the organization has put into the event's growth, the event is just… fun. "Just the word 'startup' is sexy right now," Bloom said. "Everyone wants to be the next Uber or Facebook, but what we're focused on is showcasing San Diego and the successes we've had locally. And that's hitting home."
The event takes place June 13-17 at various locations downtown. A full schedule can be found at www.sandiegostartupweek.com.