5D Robotics Inc. Acquires Alabama-Based Time Domain
Monday, July 18, 2016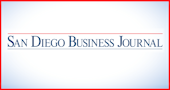 Carlsbad-based 5D Robotics Inc. announced on July 18 that it acquired Time Domain, a business based in Huntsville, Ala. Financial terms of the deal were not disclosed.
Time Domain specializes in ultrawideband radio technology, abbreviated UWB. The business provides small, low-power UWB ranging radio and radar sensors which measure distance with an accuracy of 2 centimeters, send data, and detect objects, people and obstacles. Time Domain produces both hardware and software.
5D Robotics and Time Domain have worked together since 2012. 5D Robotics has adapted Time Domain's PulsON ranging radios into autonomous navigation and positioning solutions for a variety of air and ground vehicles.
"This transaction, along with our recent acquisition of Aerial MOB, positions 5D as a driving force in the rapidly expanding world of intelligent vehicles," said 5D Robotics CEO David Bruemmer, in a prepared statement.
Platforms for autonomous mobility utilizing UWB technology include industrial equipment such as warehouse forklifts and scissor lifts, automated guided vehicles in factories and drones for industrial mapping. 5D said it plans to adapt UWB technology for automobiles.
5D Robotics announced in February that it had closed its $5.5 million seed round. The names of its private investors were not disclosed.