TECH: JEROME'S USES TECH TO SELL FURNITURE; QUALCOMM FUNDS COS.
Virtual and Augmented Reality Look to Fit in the Big Picture
Originally published July 14, 2016 at 3:43 p.m., updated July 14, 2016 at 3:43 p.m.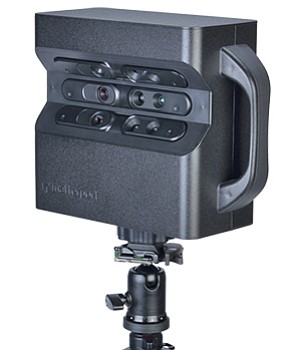 San Diego — Virtual reality and augmented reality are slowly coming to a marketplace near you.
Retailer Jerome's Furniture is using augmented reality to show prospective customers how a piece of furniture might look in their homes. Meanwhile, Qualcomm Inc.'s venture capital arm has placed bets on several companies working in augmented reality and virtual reality. The technology has applications in fields such as real estate.
Part of this is happening with the gradual adoption of virtual reality goggles, which let a wearer feel like he or she is totally immersed in a scene. Fortune magazine reported this month that sales of the special eyewear seem sluggish.
The First?
San Diego-based Jerome's says it is the first major U.S. brick and mortar retailer of furniture to offer its customers an augmented reality tool.
Jerome's wanted to solve the problem of a customer imagining how a piece of furniture might look in his or her home, said Scott Perry, the company's vice president of digital, in a statement.
In short, augmented reality lays a computer-generated image over an image picked up by the camera of a smartphone or tablet.
Customers load the Jerome's app (made by Israel-based Cimagine Media) into their mobile devices. The app scans the room that the customer wants to furnish, and then places a correctly sized, computer-generated image of a couch (or whatever piece of furniture the customer is considering) into the space.
Jerome's realizes that furniture can be an investment, the company said, and wanted to help customers avoid guesswork. Company officials said the app can help customers select an appropriately sized piece of furniture, as well as the right color.
Customers are able to manipulate the angle of the furniture to make the perspective look right.
Just Like Being There
Separately, Qualcomm Ventures, the investment arm of Qualcomm (Nasdaq: QCOM), is backing several companies in the space. Its interest in virtual- and augmented-reality firms is part of a broader effort to invest in "frontier tech," said Quinn Li, who runs the venture fund from San Diego.
Qualcomm's investments include Silicon Valley-based Matterport.
Imagine you could transport yourself to a famous building, such as the Pantheon in Rome, the temple of Angkor Wat in Cambodia or the Gamble House in Pasadena. Matterport offers technology that lets people experience being in those spaces using virtual reality goggles or a flat screen. The result is similar to the 360-degree street view a computer user can get through Google Maps.
Alternately, its software lets people see inside buildings as if they were dollhouses with a wall cut away.
Matterport offers a special camera that scans spaces in 3-D, plus associated software.
Qualcomm Ventures led Matterport's Series C round — when multiple investors contributed $30 million — in mid-2015.
Real Estate Resource
The top job for the software? It looks like real estate sales.
"You can effectively teleport anywhere and do a virtual walk-through of a home," said Patrick Eggen, Qualcomm Ventures' point man in the San Francisco Bay Area.
The company website suggests using it for historic preservation or construction documentation.
Matterport also has applications in marketing travel destinations, travel journalism or even news reporting, according to Editor & Publisher, which covers the media industry. In a 2014 article, the publication suggested a newspaper could use Matterport to document a common reporting project — a ride-along in a police cruiser with an officer from the local police department.
Content-Creation Bottleneck
It still may take a while for virtual reality to catch on. The title of a July 5 article in Fortune — "It Doesn't Look Like Virtual Reality Is a Thing Yet" — suggested tepid growth.
Qualcomm Ventures' Eggen said Matterport might be able to spur the industry.
"The challenge of VR today is that there's no content. Matterport resolves that issue," Eggen said. "Matterport breaks the content-creation bottleneck."
Other Qualcomm Ventures investments in augmented and virtual reality include Blippar and Magic Leap.
The venture fund describes Blippar as a mobile augmented reality and image-recognition platform that lets advertisers reach consumers via outdoor ads, billboards, magazines and newspapers. Blippar is based in London and has several California offices.
The fund describes Florida-based Magic Leap as "the leading pioneer in digital light field technology." The business is developing "a new mixed reality computing platform that will enable people to interact with the world in ways never before possible."
In mixed reality, computer-generated objects react to what's going on in the physical world.
Qualcomm Ventures participated in Magic Leap's latest, $794 million funding round in February.