Royal Air Force to Buy Next-Gen Predator B in Deal Potentially Worth $548 Million
Wednesday, July 13, 2016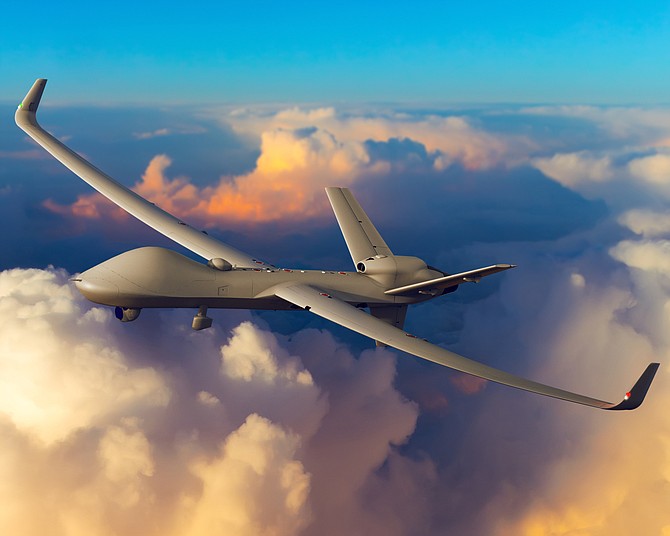 Great Britain's Royal Air Force plans to buy the next-generation Predator B unmanned aircraft from General Atomics Aeronautical Systems Inc. in a deal that could be worth more than a half-billion dollars.
In unrelated news, the Poway maker of unmanned aircraft may be getting a customer in India.
British media reported May 1 that the RAF will buy 20 new aircraft to replace its 10 Predator B models in a deal worth $415 million pounds ($548 million at July exchange rates, though with the Brexit drama, the value of the pound has declined since May 1).
GA-ASI announced the RAF sale July 11 at the Farnborough International Air Show in England. It did not announce a quantity of aircraft or the financial terms of the deal.
The updated aircraft is called the certifiable Predator B. The word certifiable means the aircraft meets NATO requirements for operating in European airspace. The certifiable Predator B carries enhanced safety and reliability systems, GA-ASI said.
General Atomics Aeronautical said it used internal R&D funds to design and produce the new aircraft. Test flights of the certifiable Predator B are scheduled late this year.
The U.K. plans to phase out its current Predator B aircraft beginning in 2018, according to GA-ASI.
The Pentagon will act as an intermediary in the sale, and more financial details will likely emerge when GA-ASI gets a formal contract.
General Atomics Aeronautical Systems is an affiliate of privately held General Atomics of La Jolla.
GA-ASI also used the air show near London to announce its plans to open an office in New Delhi by the end of the year.
Separately, it announced that the U.S. FAA awarded the company's jet-powered Predator C Avenger aircraft an experimental certificate, which allows the aircraft to operate in U.S. airspace. The company said the Avenger has surpassed 11,000 flight hours.