Oncternal Therapeutics Pediatric Cancer Drug Gets Orphan Drug Designation
Wednesday, July 13, 2016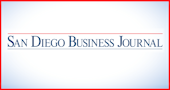 San Diego's Oncternal Therapeutics Inc. has been granted an Orphan Drug Designation by the U.S. Food and Drug Administration for its pediatric cancer drug candidate.
The drug candidate, called TK216, is meant to treat a condition called Ewing sarcoma, a cancer in which tumors grow in bones and soft tissue. The cancer mainly targets children and adolescents.
"Most patients who present with metastatic disease or fail first-line therapy face a poor prognosis," said Dr. James Breitmeyer, Oncternal's president and CEO, in a statement. "These young patients are in urgent need of better treatment options."
The San Diego drugmaker's product, TK216, is a small molecule targeting main disease drivers in Ewing tumors (specifically, inhibiting ets-family transcription factor oncoproteins).
Oncternal is in the process of initiating a Phase 1 trial of TK216 in relapsed or refractory Ewing sarcoma.
The company's new Orphan Drug Designation entitles the company to seven years of market exclusivity in the U.S. if the drug candidate reaches the market. The designation is part of the Orphan Drug Act, which provides economic incentives to encourage the development of drugs for diseases affecting fewer than 200,000 people in the U.S. Extra incentives under the program include tax credits related to clinical trial expenses, and FDA assistance in clinical trial design.
This isn't the first FDA designation that will aid Oncternal Therapeutics. The company recently received Fast Track Designation from the FDA for TK216 for the same indication, which will speed the development cycle.