LANDLORDS MUST DELIVER AMENITIES WITHOUT GOING OVERBOARD
WORKING THE ROOM | What Is Cost-Effective?
Originally published July 7, 2016 at 12:36 p.m., updated July 7, 2016 at 12:36 p.m.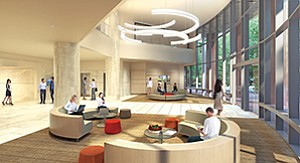 San Diego — It's not easy to assess ROI when it comes to office amenities.
Tracking whether a new fitness center, say, is reaping financial rewards is more of an art than an exact science, say experts such as Jordan Johnson, vice president of Emmes Realty Services of California LLC.
Office enhancements today are part of a broad move to shift workplaces to match the new way of working for many, especially in the tech sector — more hours, to be sure, but also more socializing and activities once considered reserved for the home front.
Talking with tenants and prospective tenants is how Johnson said his San Diego-based team keeps on top of workplace trends.
"You've got to go directly to the end consumer," he said. "Then you look at the physical characteristics of the building and say, 'how can we provide this effectively?'"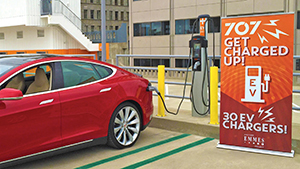 Since purchasing the 18-story office tower at 707 Broadway in downtown San Diego in 2010, Emmes has been working to reposition the building as a home away from home for "innovation economy" tenants.
The trick, he said, is making sure that using leasable space for an amenity makes up for the loss in rent by attracting other tenants.
"If you ask a prospective tenant, they'll tell you they want everything, but the question is how to provide that with the least amount of financial impact to the building and the tenant," he said. "Will this improve the customer experience and customers' happiness? If the answer is 'yes,' and it's cost-effective, thenour general response is to move forward."
As part of that effort, Johnson said, Emmes has allocated two lower floors at 707 Broadway as shared spaces, featuring a modern gym and a game room with a video game console and shuffleboard and Ping-Pong tables. Tenants also got a healthy vending "micro-market" and a secured bike room, a nod to millennials' heightened interest in health and reduced access or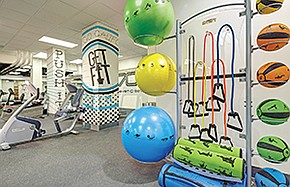 interest in owning motor vehicles.
"Not everyone drives to work," Johnson said. "Being able to provide something as simple as a secured bike room is meaningful to people."
Other enhancements at 707 Broadway include vibrant exterior murals, a dog park for workers who bring Fido to the office and a bank of 30 chargers for electric vehicles.
Johnson said the investment — which kicked off about one year ago — has been paying off.
"We've had significant leasing activity and the improvements are resonating well, resulting in dramatically increasing leasing velocity," he said.
Emmes announced this spring that two tech companies — San Diego-based CPC Strategy, a digital marketing firm, and Dev Bootcamp, which trains coding and web developers — signed leases to join the 707 Broadway office tower tenant lineup.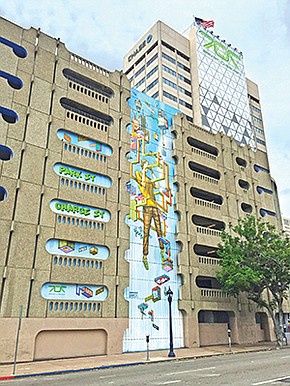 Showcasing Your Values
Amenities aren't always as tangible as shareable conference rooms, though.
Dennis Hearst, senior vice president with brokerage company CBRE Group Inc., said more employers are considering the location of their real estate as a way to attract and retain talent just as much as the features of the workplace itself.
"It may not be just where the best real estate is, but what's the best fit from the labor perspective," he said at a recent roundtable luncheon hosted by Tech San Diego at UC San Diego Extension.
Hearst, who joined CBRE's San Diego team in 2011, said workplaces today should reflect the companies they house.
"More and more, it's how you showcase your values," he said. "Even if you're a good employer, you have to have a space that looks fun."
Offices at CBRE are being redone as part of the firm's Workplaces 360 initiative, which is shifting the company's offices away from the standard rows of cubicles to encourage more collaboration.
The redesigns have included the elimination of assigned seating in exchange for a variety of spaces able to accommodate everything from group meetings to pr
ivate conversations; the use of technology to digitize materials, reducing the need for storage space and file drawers; and wellness initiatives, such as the introduction of adjustable-height workstations and more natural light.
Since then, the company has saved 20 percent in rent and operation expenses; of employees at those offices, 93 percent surveyed said they would not want the changes reversed, Hearst said.
So far, CBRE has redone two of its three San Diego office sites: Carlsbad and downtown San Diego, but not yet the firm's University Town Centre space.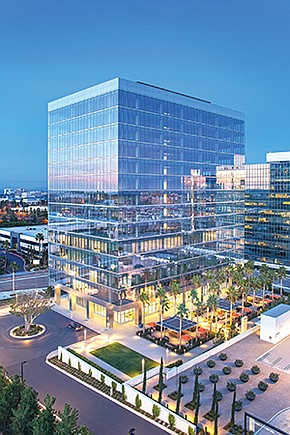 That's sparked a change in employee habits, Hearst said.
"More and more people want to work out of the Carlsbad and downtown offices when they have a choice," he said.
Do You Need a Volleyball Court?
Employers' interest in amenity-rich offices is on the rebound, according to Jason Hughes, president and CEO of Hughes Marino, the largest tenant representation company in San Diego.
Those kinds of companies are spurring an amenities arms race of sorts — and prospective tenants should stay watchful to ensure they aren't overpaying, Hughes said.
"If they think it's worth it, then great; but if they see an office that's $3 per square foot with a sand volleyball court no one will use, that's the stuff they really need to understand," he said.
Hughes mentioned the Irvine Co., the largest office property holder in the county, as a developer that keeps buildings fresh without adding fluff.
"They have a nice amenities package but they don't overdo it," he said. "And they don't charge excess nor do they think they need to get crazy rents to justify the 'cool' factor they have."
It's a fine line for developers — and those who lease out their spaces.
"If you're all about being cheap, your space is going to reflect that," Hughes said. "That isn't how you become a successful company."
On the flip side, "some developers go crazy on the amenities package and want crazy rents because of it," he said. "They're charging the tenants for that space — it's not like they're getting it free, it's just disguised."
That's money that could go into R&D instead, for example.
"Some developers and landlords are trying to outdo each other," he said. "They're hoping for the Google-type companies to take notice."
CBRE's Laura Sidney, at the Tech San Diego event, said the recent announcement that tech behemoth Google — known for its extraordinary perks, from gourmet meals to rides to and from work — will open its first San Diego office is likely to push other area employers in the tech sector to up their offerings.
Sidney, a director of client strategy with CBRE's Labor Analytics group, said based on what's happening in other startup-friendly areas, the Mountain View-based tech giant won't be the last big name to enter the San Diego market.
"It's sort of a gravitational pull," she said. "Now that 'the Google' has landed, who's next?"