TECH: IT HAS SEVERAL SECURITY APPLICATIONS; DIRECT TOUCH NOT NEEDED
New Fingertip Scan Opens Up Possibilities, Closes Out Impostors
Originally published January 21, 2016 at 12:28 p.m., updated January 21, 2016 at 12:28 p.m.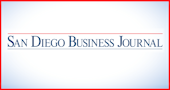 San Diego — Qualcomm Inc. has put ultrasound to work in a new way, to keep prying eyes out of smartphones and tablets.
You don't need a password to unlock your phone. Just a fingertip.
The company's biometric security technology creates a 3-D model of a user's fingerprint, which the phone remembers, allowing an owner to unlock the device and get to potentially valuable content.
Qualcomm (Nasdaq: QCOM) has multiple patents on its technology, which it calls Sense ID.
Announced in spring 2015 at a Barcelona trade show, Sense ID has now debuted in its first smartphone: the LeTV Le Max Pro which will go on sale in China. The media got a first look at the phone during this month's Las Vegas consumer electronics show. The Le Max Pro is also the first phone on the market to feature Qualcomm's top-of-the-line Snapdragon 820 chip.
Qualcomm has "quite a lot" of intellectual property in Sense ID, said Seshu Madhavapeddy, Qualcomm's vice president for mobile computing. "The very idea of how to create an ultrasonic fingerprint sensor is a Qualcomm innovation." So are the specific image-processing algorithms.
Different From Other Sensors
Sense ID is different from the dominant fingerprint sensing technology, known in engineering circles as capacitive sensing. The incumbent technology creates a two-dimensional image, and is easily "spoofed" by retrieving fingerprints and simulating them with other materials, Qualcomm representatives said.
Sense ID, which maps not just the fingertip's ridges but sweat pores, is much harder to spoof. It can tell a real finger from a plastic replica. "Because we can tell the difference, we are more immune to spoofing," Madhavapeddy said.
Microscopic and Mighty
Another advantage of the ultrasound sensor is that it can operate through glass or metal.
With capacitive touch technology, the finger has to come in direct contact with a sensor. That means there must be a hole in the phone case. As an engineer, Madhavapeddy sees a hole as one more potential point of structural failure. Having the sensor buried beneath a layer of glass or other material gives a phone designer more latitude, he said, and creates not only a better industrial design but a more aesthetically pleasing object.
While the technology can't operate through a standard windowpane or steel plate, it can operate through material that is 400 microns thick. That is four-tenths of a millimeter, or the thickness of four sheets of office paper stacked up.
Qualcomm's ultrasonic technology can detect a finger's structure through a variety of materials, including glass, aluminum, stainless steel, sapphire and plastics. Moisture is no barrier. Sweat, rain or hand lotion can be hard on a capacitive sensor but doesn't faze the ultrasonic sensor, Qualcomm representatives said.
Getting to Know You
Making a digital model of the fingerprint with Sense ID takes a bit of effort. A user might have to touch and then retouch the sensor perhaps a dozen times over a minute. Each touch gives the sensor a little more information to create a complete model.
Once the phone has the 3-D model, it stores the image securely in the Snapdragon chip. The image "never leaves that hardware vault on the chip," Madhavapeddy said. (The vault — which also falls under a Qualcomm patent — has several other uses, the executive added. They include protecting high-definition, first-run movie content on a personal device while keeping it away from hackers who might want to sell copies on the black market.)
Madhavapeddy earned his doctorate in computer science from the University of Texas at Dallas. Prior to joining Qualcomm in 2014, heheld positions with Samsung Mobile and Texas Instruments.
Because space is scarce on a smartphone, its sensor has to be as small as possible, limiting the biometric identifier to a single finger. Other security applications, perhaps used by governments, can have a reader able to sense four fingers on a hand at once, Qualcomm representatives said.
While Qualcomm is going after government business, representatives predicted that the company's fingerprint identification technology might become a big deal in the consumer world. E-commerce businesses and their customers may decide they like how easy it is to use a fingerprint to authenticate online purchases using mobile payments.