PROPERTY: INDUSTRIAL OPPORTUNITIES LIMITED TO SUBURBAN SUBMARKETS
Lack of Supply Drives Rents Up Across Entire Market
Originally published January 21, 2016 at 2:32 p.m., updated January 21, 2016 at 2:32 p.m.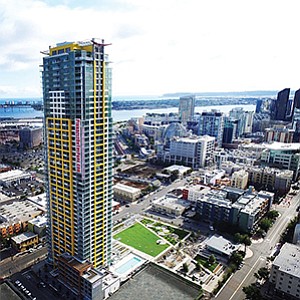 San Diego — Fueled by steady job growth, San Diego County's commercial real estate scene in 2015 saw a continuation of post-recession trends including dropping vacancy rates and rising rents.
Brokerage firm Colliers International reported that the county's 5 percent industrial vacancy rate at the end of the fourth quarter was the lowest seen locally in 18 years. Office and industrial construction saw a significant increase in the past year, although much of the space in completed projects —including the entire new Sempra Energy office tower in East Village – was already spoken for in advance as part of build-to-suit, pre-lease arrangements.
Can Afford to Be Selective
The year's largest completed spec office project, Irvine Co.'s $100 million One La Jolla Center tower at University Town Center, was slowly and methodically being leased up following its midyear completion, as the region's largest office landlord sought out its desired mix of tenants at its desired price and pace. (Unlike most developers, Irvine Co. fully self-finances most of its acquisitions and construction projects, and does not have lenders pressuring it to fill buildings with tenants in order to make loan payments.)
As the year drew to a close, Irvine Co. also was preparing for future spec development at its low-rise Eastgate office campus in UTC.
The brokerage firm JLL noted that recently completed spec office projects in the region were, as a group, 81.6 percent vacant at the end of 2015, accounting for nearly a half-million square feet of empty space, or around 4.3 percent of the county's 11.3 million square feet of vacancy. Irvine Co. and other developers were optimistic about filling those spec spaces in high-demand markets with rising rents — including new offices delivered by American Assets Trust Inc. and Kilroy Realty Corp. in Del Mar Heights, and Cruzan in Carlsbad.
CoStar Group said the county's retail vacancy rate rose slightly, to 4.8 percent at year's end, as rents continued to rise amid limited space availability, especially in coastal markets. Marcus &
Millichap was predicting that the region's apartment vacancy would remain tight in coming months, at around 3 percent, after rents surged 8.2 percent during the past year and construction continued to lag behind rising demand.
Here's a look at other full-year and fourth-quarter trends seen in San Diego County's key geographic markets during 2015.
Central San Diego
The downsizing Qualcomm Inc. during the past year began the process of paring down its office footprint, primarily in Sorrento Mesa but with a presence in other markets including UTC, in order to concentrate its workforce into buildings that it owns rather than leases.
The growing life science industry, running out of space in markets such as Torrey Pines and Sorrento Valley, continued to grow its presence at UTC, with landlords such as BioMed RealtyTrust Inc. renovating properties and building new campuses to serve that industry.One of the year's biggest office acquisitions was biotech landlord Alexandria Real Estate Equities' $105 million purchase of a 304,000-square-foot building at UTC, sold off by Qualcomm. The building was immediately leased to pharmaceutical maker Eli Lilly and Co..
Downtown San Diego
Downtown in 2015 saw the opening of its tallest apartment property, the 484-unit Pinnacle on the Park in East Village, from Canadian firm
Pinnacle Development. It is the first of two 45-story towers planned for the site, and just one of several projects expected to add around 2,000 new apartments to the downtown market in coming years.
In addition to Sempra's relocation to its new 320,000-square-foot headquarters tower, downtown in 2015 also saw the City of San Diego move into more than 295,000 square feet of office space at Civic Center Plaza. Downtown ended 2015 with a retail vacancy rate of 4.3 percent, and an office vacancy of 9 percent, below the county's 11.3 percent, according to CoStar Group.
North County
North County markets, in particular Oceanside and Carlsbad, continued to benefit from a dearth of large available commercial spaces in built-out submarkets of central San Diego.
According to CoStar Group, six of the county's 12 largest industrial construction projects in progress at the end of 2015 were located in Oceanside. Those included a 306,000-square-foot distribution center being built for FedEx, and a 101,000-square-foot expansion of an existing Coca-Cola plant.
Brokerage firm JLL reported that Carlsbad posted the county's largest positive net absorption of office space in the fourth quarter, at more than 133,000 square feet. Much of that was driven by ViaSat Inc., which was set to occupy more than 74,000 square feet in new build-to-suit office space, and also recently purchased 23 acres of land to accommodate future growth.
South County
South County business advocates were anticipating rising future demand for commercial space, following the recent opening of the Cross Border Xpress pedestrian bridge, linking Otay Mesa with the Tijuana International Airport.
CoStar Group reported that Otay Mesa saw one of the region's largest corporate move-ins of the fourth quarter, as Bose Corp. occupied 112,000 square feet on Siempre Viva Road. Otay Mesa's industrial vacancy rate tracked slightly higher than the county's, finishing 2015 at 6.8 percent.